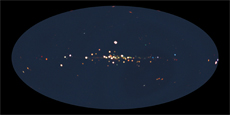 All-sky image captured by the GSC camera over 10 months. Red spots show low-energy X-ray-emitting celestial objects and blue spots show high-energy-emitting X-ray celestial objects. (*1)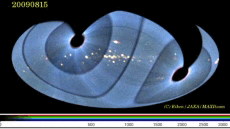 Animation of the all-sky (Series of images from August 15, 2009, to March 23, 2010) (*2)
>>Click here for larger images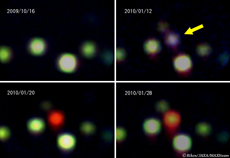 X-ray nova in the constellation Sagittarius. The arrow points to the location where MAXI spotted the nova and tracked it as it formed. MAXI started watching the star a week before it went nova, and followed its transformation. In this series of images, it changes from blue to red as its brightness and radiation energy grows. Coincidentally, you can also see a binary neutron star to the nova's upper left, which resumed its activities and brightened at the same time as the nova. (*3)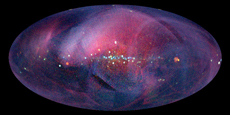 All-sky image taken by the X-ray CCD camera (*4)

MAXI's mission is mainly to observe transient and variable phenomena of peculiar objects such as black holes and neutron stars in the entire sky over an extended long period. About one year has passed since the observations started, but MAXI has already discovered new X-ray-emitting celestial objects and detected various violent variabilities of known objects. Its observations continue, and we are still analyzing the data, so I cannot give you the details on what we have found, but I can summarize some of our initial observations briefly.
1) MAXI set a remarkable record of taking only two months to complete an all-sky X-ray image. In November 2009, we released an all sky image of X-ray objects made from Gas Slit Camera observations. MAXI was the first in the world to obtain the all-sky image within two months of starting operation, and to release those images to the public. Since then, MAXI has provided a new set of the all-sky image every two months, and after 10 months of observations we can now recognize about 350 X-ray-emitting objects. As X-ray intensities of these objects are always variable, we are going to continue observations over time, and we plan to publish the world's first catalogue of variable X-ray sources. (Image 1)
In addition, we have made an all-sky animation from our series of daily all-sky images. This animation shows how the objects on the Galactic plane transiently appear and then disappear, and often vary violently. (Image 2) 2) Observation of gamma-ray bursts MAXI has detected several gamma-ray bursts, whose majority is confirmed to be related to supernova explosions. Gamma-ray bursts are the enormous explosions that are thought to be the largest in the Universe, and many of these bursts occur billions-light years away. Their process of X-ray generation is insufficiently understood, and they remain a mystery. 3) Long-term observation of X-ray novae of black hole binaries Over more than seven months, we observed an X-ray nova of a black hole binary as it appeared near the Galactic center. X-ray nova appeared suddenly like a bright firework, but MAXI succeeded in detecting a rising phase of an X-ray nova before the peak of its burst and following its evolution until it has vanished. Bright X-ray novae with black holes are seen only once or twice per year in the entire sky, so these MAXI data are very valuable, and we have already published the paper on it. (Image 3) 4) X-ray pulsar observations A binary X-ray pulsar consists of a neutron star with a strong magnetic field and an ordinary star. The gases from the ordinary star flow into the neutron star, and the brightness alters depending on the amount of gas flow. MAXI observed these X-ray pulsars, and obtained unique data on the structure and evolution of these gases. Additionally, it obtained the X-ray pulsars that had been re-activated after several years, as well as a new, little-known phenomenon; i.e. X-ray pulsars that extremely brighten only for a few hours. 5) Flaring activities of active galaxies MAXI observed active galaxies with producing jets that make variable X-ray intensely, like enormous flares. We obtained valuable data that could explain the conditions under which active galaxies eject jets by simultaneous observation with radio and ultra-high energy gamma-rays. MAXI also detected the jets which were produced from micro-Quasars; i.e. binary active stars accompanying a black hole or a neutron star. 6) Soft X-ray all sky images observed by the X-ray CCD camera MAXI performed the first all-sky soft X-ray observation using the X-ray CCD camera whose CCDs are produced by Japanese company. This allowed us to confirm that there are many soft X-ray objects along the galactic plane, as well as to reveal the existence of high-temperature plasmas surrounding the solar system. If we continue our observation on how much and what kind of elements exist in the hot plasma - such as the distribution of oxygen and neon emission lines - we could get close to solving the mystery of the origin and evolution of the hot plasmas. (Image 4)
These observation results are still being analyzed, and I think there could be new discoveries coming. The world has great expectations for MAXI's all-sky observations. We hope that MAXI will continue to encounter never before seen celestial bursts and rapid variable phenomena.