Q. What do we know about Venus from previous and current missions?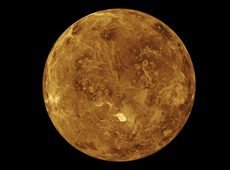 A CG image of Venus, based on radar observation (Courtesy of NASA)
Russia and the United States have studied Venus in the past, and a European spacecraft is in operation today. These studies have shown us, for example, that:
1.

The Venusian atmosphere is mainly comprised of carbon dioxide, and is full of sulfuric acid clouds

2.

Venus is a world of high heat and high pressure, with temperatures over 400°C and atmospheric pressure at the surface about 90 times greater than on Earth

3.

There are no oceans like on Earth, but there are relatively new volcanic terrains

4.

There is no magnetic field.
The high heat on Venus is a result of a greenhouse effect caused by carbon dioxide. This can be seen as the ultimate result of runaway global warming.
An interesting finding from a recent study is the detection in Venus's highland regions of a mineral with a spectral feature similar to granite, which usually forms in an environment where there is water. This discovery was made by a Japanese researcher, through analysis of observation data acquired on previous missions. This may suggest that there were once oceans on Venus like there are on Earth. If this is true, what did they look like and how did they disappear? We cannot answer these questions without understanding the mechanism of Venus's atmospheric circulation and the history of its variation. The meteorological research we are trying to conduct with AKATSUKI is an important opportunity to solve such puzzles, and the mission is highly anticipated by scientists around the world who study planetary atmosphere.