Q. How is the technology designed for HAYABUSA going to be reflected in HAYABUSA-2? What will be the major improvements?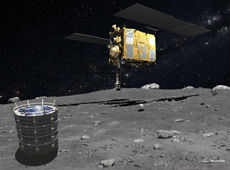 Asteroid explorer HAYABUSA-2 and MINERVA (courtesy: Akihiro Ikeshita)
HAYABUSA was primarily a technology demonstrator, and was a very challenging mission. Some technologies were successful and some failed. But, basically, many technologies that were tried out with HAYABUSA will be passed on to HAYABUSA-2.
First among those are the ion engines. Despite the fact that HAYABUSA's ion engines degraded over time and did not perform optimally, it achieved the world's first planetary round trip. We would like to advance electric propulsion technology further, and build ion engines with a longer lifespan.
Next is the navigation and guidance technology. This technology is used for touchdown - for the spacecraft to land on the surface of the asteroid, and ascend again after collecting samples. HAYABUSA's fuel leak problem is suspected to have occurred because the touchdown was not performed properly. False landing must not happen again next time, and to ensure this, we are creating new methods of operation, navigation and guidance.
We are also planning a new attempt at MINERVA. MINERVA was a planetary exploration rover - Japan's first - that was part of the HAYABUSA mission, but unfortunately it failed to land on Itokawa and drifted into space. This time, we want to make sure it succeeds.
In addition, we are planning to improve the attitude control, the antennae, and the sample-collection method. But most functions will be basically the same as HAYABUSA's. The goal of HAYABUSA-2 is to perfect the technology developed for HAYABUSA, in order to perform a flawless planetary round trip.