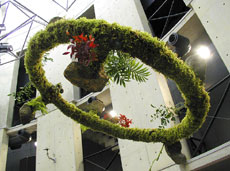 Space Garden: experiment for creating a garden by growing vegetation on ISS, with a theme of pondering nature on Earth (courtesy of Associate Professor Shiro Matsui of Kyoto City University of the Arts. Result of the joint research project "Artistic Approach to Space".)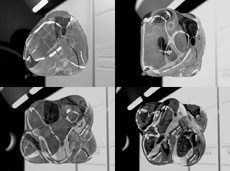 CG image of a water blob floating in the pressurized module. (courtesy of Professors Takao Fujiwara and Hitoshi Nomura, and Associate Professor Masayuki Towata, of Kyoto City University of the Arts)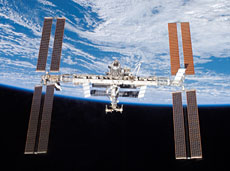 International Space Station under construction (courtesy of NASA)

Q. Kibo will be used for educational purposes, too. Could you tell us how exactly?
We are preparing an educational program for children from elementary school to high school. The plan is to send to Kibo water-flea eggs and seeds of two plants: morning glory flowers and a clover-like plant known as bird's-foot trefoil. After some time, they will be retrieved and brought back to Earth, and schoolchildren will observe the differences between them and the same organisms grown on Earth for the same length of time. The seeds and eggs are so small that a large amount of samples can be sent to space at once, so we'll be able to distribute the samples to many schools and science museums.
JAXA has also held five parabolic flight experiment contests for university students.
JAXA is interested in new and unique ideas for both scientific and artistic projects, so an art project with Kibo is also underway. When we invited submissions from artists, we received many interesting ideas that take advantage of microgravity: drawing patterns with dripping inks, forming interesting shapes with water blobs, and so on. I'm really looking forward to seeing artistic expression in the space environment. We're planning to continue developing new educational programs where children can take part in space experiments, and we hope our programs will help get children interested in space, science, and human space development.
Q. What does the Space Environment Utilization Center do?
The Space Environment Utilization Center has two key roles. One is to support researchers and the setup of their experiments on the International Space Station. There are of course some severe restrictions on experiments in space: there is limited electrical power available, limited communication with Earth, and there are strict safety regulations on the space station. And there are many other considerations too; for example, whether experiment samples will survive rocket launch, or whether experiments can be carried out safely under microgravity. This is why researchers need support for various aspects of their space experiments, including the development of appropriate laboratory equipment.
The other task is to expand utilization of the ISS in various areas. We'd like to involve the public more. For this purpose, as well as for scientific research, we're trying to utilize the ISS for cultural purposes, such as art and education, and also from a commercial perspective, to contribute to Japanese industry. For instance, a few years ago, a TV commercial for a Japanese food company was shot in the Russian service module of the ISS. This is an example of new business opportunities we can provide. It is our job to coordinate opportunities for people who wish to use Japanese facilities in space, and to introduce ideas for various new uses.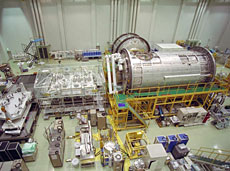 Panoramic view of Kibo
Q. What would you like to do with Kibo in the future?
Kibo is Japan's first human space facility, where Japanese scientists can do things for themselves in space for the first time. I've wanted to try many different things, and I've been dedicated to coming up with, and preparing for, various uses of Kibo. My primary goal is to help users do what they want to do. At the same time, it's very important to create an environment where people can tell us what they wish to do. And of course the experience of actually operating Kibo, as well using it as a scientific platform, will teach us a lot about how to expand our activities in space.
The assembly of Kibo will start at the beginning of 2008, and the initial group of experiments is scheduled to wrap up around 2010. Just the other day was the submission deadline for research proposals for the second utilization period. And now, we'd like to build a system where the private sector can utilize the ISS for profit. We're also interested in expanding the range of users by implementing many cultural and artistic projects. Having said that, space art is still a very vague concept, so we'll first work on acquisition of samples of space art, and then invite submissions. While JAXA is committed to using Kibo responsibly, I'd like to increase opportunities for the public to use the facility as an open laboratory.
Tetsuo Tanaka
Director, Space Environment Utilization Center, Human Space Systems and Utilization Program Group, JAXA
In 1978, Mr. Tanaka graduated from the Department of Mathematical Engineering and Information Physics at the Faculty of Engineering of the University of Tokyo, and joined the National Space Development Agency of Japan (now part of JAXA). He worked on the development of optical sensors for Earth observation satellites from 1980. He got involved in the development of the H-II Transfer Vehicle (HTV) in 1994. He became the HTV project manager in 1999, and the manager of the Strategic Planning Department in 2002. He has been in his current position since 2005.