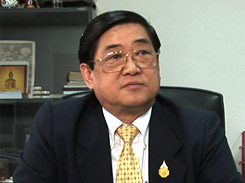 In the past, our only natural disasters were floods. Now, our floods are often followed by landslides. And in the summer, we have forest fires, drought and sometimes tsunami.
Because Thailand is located in a tropical region and floods always occur in the rainy season, when there is a lot of cloud cover, data from satellites such as RADARSAT and Daichi (ALOS) are very important to us. After joining Sentinel Asia, Thailand received data from Daichi monitoring floods in northern Thailand in 2006. This was very helpful to us.
Thailand plans to participate in Sentinel Asia by providing satellite data analysis from our ground receiving station, which can receive data from many satellites, including NOAA, MODIS and LANDSAT. We will provide Sentinel Asia with data covering the area before and after the disaster, so we can make comparisons.
In November 2007, Thailand will launch an earth observation satellite called THEOS. Once it is operational, we will provide data from THEOS free of charge in emergency cases to Sentinel Asia.
We would also like to participate in activities such as workshops, training sessions and meetings of Sentinel Asia, to contribute to capacity building.