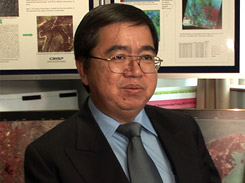 We at CRISP have been using satellite remote sensing to monitor the environment, especially major disasters, since our formation back in the 1990s. We have had a joint collaboration with the Singapore Nature and Environment Agency since 1998 to monitor forest fires. And also, in the numerous incidents of oil pollution, we have used satellites to observe pollutant flow.
Presently, only a limited number of countries are using their own satellites, so the key for Sentinel Asia is to provide a mechanism and backbone that all countries in the Asia Pacific Region can use. What we are expecting Sentinel Asia to do is to provide information to the countries that have not previously had access to satellite information for disaster monitoring. So, I would like to see whether the poorer countries can easily use Sentinel Asia. We have to check with other Asia Pacific countries to find out whether or not they can access the data in the Sentinel Asia system, and what problems they face in utilizing Sentinel Asia.
There is so much that we can do. We hope to be an active contributor in data analysis, providing satellite images and data. We would, of course, participate in the joint project team and help establish the necessary institutional systems and facilities as the project evolves. Our current plan is to do whatever we can to support the project.