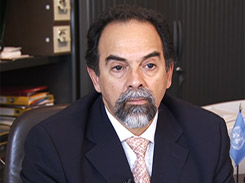 The International Strategy for Disaster Reduction (ISDR) was launched six years ago by the United Nations General Assembly to focus on reducing risks and vulnerability to natural hazards. It was launched with the understanding that disasters occur mainly because of the vulnerability of residents, and that by reducing that vulnerability, disasters would also be reduced. Rather than just preparing emergency measures to respond to disasters, it is more important to reduce risk and vulnerability beforehand. So, that new thinking led to the establishment of the ISDR.
The Hyogo Framework, adapted at the World Conference on Disaster Reduction in Kobe, Japan in January 2005, provides a full range of issues and recomendations that need to be addressed to reduce vulnerability. Among those issues, it gives top priority to risk reduction. What is important is not just disaster management, but prevention of disasters by reducing the risks first.
Secondly, the Hyogo Framework sets out the task of identifying and understanding the risks and vulnerabilities, by doing risk assessments and establishing early warning systems.
Thirdly, it focuses on how to develop knowledge and education, calling for the teaching of risk reduction and vulnerability awareness in schools and communities.
And the fourth area of the Hyogo Framework is how to reduce the underlying risk factors: how to diminish poor construction, how to make sure houses are built better, how to do land-use planning, how to manage the ecosystems. They are all essential for reducing risks.
Among the means that can be employed to implement the Hyogo Framework, use of space technologies is very, very important, because these technologies allow us to identify vulnerabilities that are not perceptible by ground-based observations. So definitely, Sentinel Asia is a very interesting, very valuable initiative. It would be useful if the Sentinel Asia project could be linked even more closely with various UN institutions, so that we can work together more closely on important issues.