SHIZUKU Launch Vehicle Decal
SHIZUKU's decal is designed to leave a large space on the campus for calligraphic Japanese Hiragana characters (the most basic letters) of SHIZUKU

in order for everybody including both adults and children to grow closer to the satellite. Using a Japanese writing brush for calligraphy highlights Japanese taste to show off that it is a "Japanese satellite" to the world. Color gradation on the background is associated with "water circulation" to purely stand out the silhouette of the SHIZUKU, which will fly around the water planet "Earth."
The H-IIA Launch Vehicle No. 21 will be decorated with this beautifully designed SHIZUKU decal. Please have a look at its launch in the night sky from Tanegashima, whose glow will illuminate the decal of the SHIZUKU, of which Japan can be proud.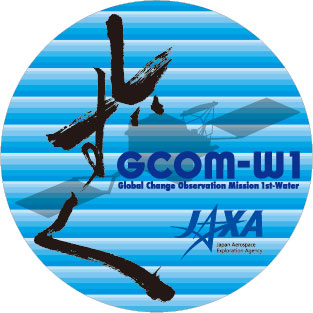 Mission Logo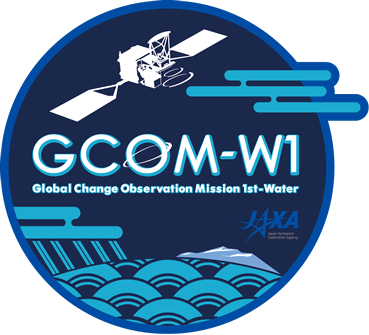 Nickname "SHIZUKU"
The nickname "SHIZUKU (meaning a "drop" or "dew")" has been selected as a result of a naming contest. We asked the public to christen the satellite through the Internet and conventional mail service between July 1 and Aug. 31, 2011. Among the suggestions from a total of 20,998, some 1,392 people proposed "Shizuku."
Some typical reasoning for picking "Shizuku" was that the satellite will observe water circulation, which originated from a "drop" of water that becomes rain, then runs into the ocean, and ultimately evaporates in the air as vapor or becomes ice. Some explained that they would also like the satellite to observe each drop of water carefully. Those descriptions precisely illustrate the GCOM-W1 mission.
JAXA is sending a certificate for the naming to all of you who proposed "Shizuku."