The Japan Aerospace Exploration Agency (JAXA) has been investigating the possibility of recovering the observations of Midori-II after an anomaly was detected in the satellite on October 25 (Saturday), 2003. JAXA has been continually trying to send the satellite commands to restore its functions, and analyze its current status.
However, as a result of our investigation, analysis, and inability to re-establish any communications with the satellite, JAXA found today that the possibility of restoring the operations of Midori-II is extremely slim.
JAXA will continue to do its utmost to send commands and investigate the condition of the satellite to clarify the cause of the anomaly and to prevent a recurrence of the problem for future satellite programs.
JAXA will also do its best to provide users of Midori-II with as much acquired data during its nine-month operation period in order to maximize their use.
In addition, we will examine future earth observation activity plans by consulting with the Ministry of Education, Culture, Sports, Science and Technology, the Space Activities Commission, and other parties concerned, taking into consideration the importance of earth observations to solve global environmental issues as highlighted during the Earth Observation Summit.
JAXA would like to express our sincere apologies to all Japanese citizens, Midori-II users, and parties concerned, including the Ministry of Environment, NASA (the National Aeronautics and Space Administration) and CNES (Center National d'Etudes Spatiales), whose observation equipment is onboard Midori-II.
Image of Midori-II taken by the radar of FHR of FGAN
(Oct. 28, 2003 06:01 JST)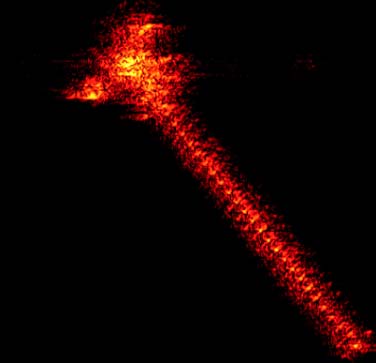 | | |
| --- | --- |
| FGAN: | Forshungsgesellschaft fur Angewandte Naturwissenschaften e.V. |
| FHR: | Forschungsinstitut fur Hochfrequenzphysik und Radartechnik |