The Japan Aerospace Exploration Agency (JAXA) and NHK (Japan Broadcasting Corporation) successfully captured a movie of the "Full Earth-Rise"*1 using the onboard High Definition Television (HDTV) of the lunar explorer "KAGUYA" (SELENE) on September 30, 2008 (Japan Standard Time, JST, all the following dates and time are JST.) The KAGUYA is currently flying in a lunar orbit at an altitude of about 100 km.

An "Earth-rise," or the rising Earth over the Moon, was captured for the second time following the first movie shooting on April 6, 2008. The latest success was a very precious moment because it was one of only two chances in a year for the KAGUYA to capture a Full Earth-Rise when the orbits of the Moon, the Earth, the Sun and the KAGUYA are all lined up.

The shooting was performed by the NHK HDTV onboard the KAGUYA. The movie data was captured at JAXA, then processed by NHK.

*1 The phenomenon expressed as a "Full Earth-Rise" can be seen from a satellite that fly around the Moon such as the KAGUYA (SELENE) or the Apollo manned spacecraft. The Earth is almost stationary when it is observed on the Moon, thus a Full Earth-Rise coming out from the horizon cannot be seen on the Moon.



The location on the Moon is around the North Pole on the near side at a north latitude of 74 degrees or higher. You can see Australia on the lower left and the Eurasian to European Continents and the Arabian Peninsula in the center to the left of the Earth image.
The "full earth-rise" movie data taken this time cover the areas of Eurasia, including Japan, Europe and Africa. You can clearly see the Eurasian Continent and Australia, but clouds cover Japan due to an Autumnal rain front and a typhoon. The latest movie data was taken from the KAGUYA flying over the North Pole of the Moon looking at the Earth with its northern hemisphere upward.
The Rising Earth from the horizon of the Moon. From left to right, it took about 40 seconds for the Earth to fully rise.
* The above image was made by cutting out still images from the movie.
Figure 1: Timing of taking the Full Earth-Rise image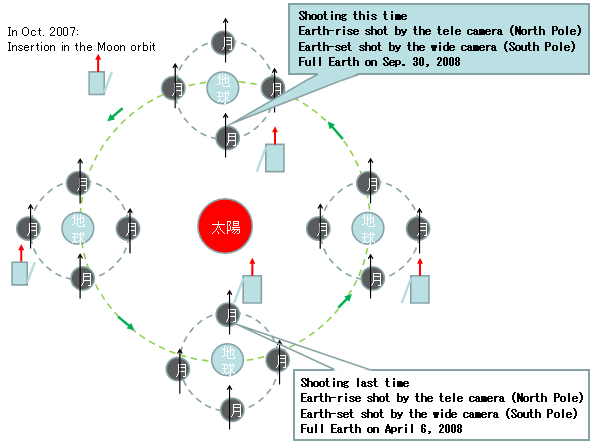 * Correction: We reversed the direction of the green arrow in this drawing as the Earth's revolving direction had been the other way around. (Oct. 21, 2008)
The above figure shows the relative positions of the Earth, Moon and the KAGUYA by setting the Sun at the center viewing from the North Pole. Black arrows indicate the KAGUYA's orbit around the Moon, and red arrows are the KAGUYA's moving direction. The green arrows show the Earth's revolving direction around the Sun.
Figure 2: Position of HDTV