TOKYO, February 3, 2010 -- Japan Aerospace Exploration Agency (JAXA) and Boeing today signed a cooperation agreement aimed at accelerating advances in aviation operation and safety technology.
Specifically, JAXA and Boeing Research & Technology will work together to develop sensor technology to enable an Onboard Doppler Light Detection and Ranging (LIDAR) system, which could warn pilots of oncoming air turbulence. The goal is to help prevent potential damage or injury to airplanes, passengers and crew.
JAXA and Boeing independently have been engaged in the development of sensor technology to enable a real-time, in-flight system to detect high-altitude, clear-air turbulence. By working collaboratively, Boeing and JAXA expect to speed research progress in this field.
An official signing ceremony was held at JAXA Chofu Aerospace Center today, attended by Dr. Takashi Ishikawa, JAXA's executive director for Aviation Program Group; and Dr. Matthew Ganz, vice president and general manager of Boeing Research & Technology.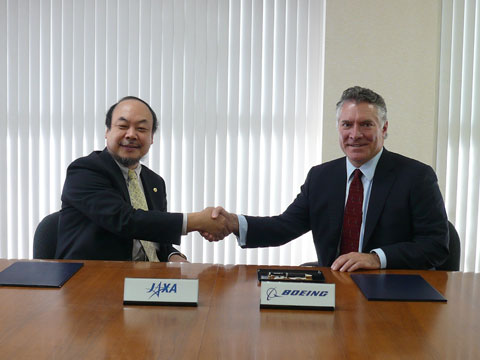 (Takashi Ishikawa of JAXA and Matt Ganz of Boeing seal today's agreement with a handshake.)