The Japan Aerospace Exploration Agency (JAXA) is pleased to announce that President Keiji Tachikawa of JAXA and Dr. Ger Nieuwpoort, the Director of The Netherlands Space Office (NSO), concluded a "Memorandum of Understanding between Japan Aerospace Exploration Agency and Netherlands Space Office on Cooperation in the Field of Space Activities for Peaceful Purposes" at the Netherlands Embassy in Japan on April 12, 2010. With this Memorandum of Understanding (MOU), the two organizations will identify potential areas for mutual cooperation to promote our collaborative efforts.
We took advantage of the opportunity of having Ms. Maria van der Hoeven, Minister of Economic Affairs of the Netherlands, also a member of the European Space Agency council meeting at ministerial level, visiting Japan at this time to sign the MOU at the official residence of the Ambassador of the Netherlands with the Minister in attendance.

With regard to cooperative relations with the Netherlands, JAXA and the Netherlands Institute for Space Research (SRON) concluded a cooperation agreement in the field of space science including the X-ray Astronomy Satellite "ASTRO-H," for which collaborative areas have been specified. This cooperation in the space science field continues to be promoted under the MOU concluded at this time.

- Outline of the Memorandum of Understanding

(1) Objective
To identify potential fields of cooperation and establish a process for implementation in order to promote mutually beneficial space collaboration for peaceful purposes.

(2) Cooperation fields
1) Cooperation in the space science field shall be fostered as the primal cooperative area.
2) Further cooperation in other potential areas for the future will be additionally established under the mutual agreement.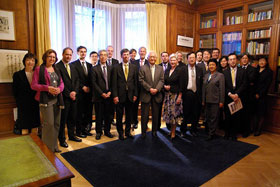 (Ceremony photo)
(Note 1) NSO and SRON
The Netherlands Space Office (NSO) was established in 2008 as the core space agency in the Netherlands after merging and reorganizing some related organizations. The Netherlands Institute for Space Research (SRON), which was established in 1983, is a primary research institute in the field of space science and earth observations in the Netherlands. The NSO and SRON are working together closely and cooperatively.
(Note 2) Current status of cooperation with the Netherlands
Cooperation in the field of space science is progressing. More specifically, for the ASTRO-H mission, the SRON is in charge of developing an instrument for the onboard Soft X-ray Spectrometer (SXS), and will also take part in the science team to conduct scientific research. SRON also plays a leading role in the research and development of onboard observation equipment, the SAFARI spectrum, developed by the European SPICA consortium for JAXA's Space Infrared Telescope for Cosmology and Astrophysics (SPICA.)