The Japan Aerospace Exploration Agency (JAXA) and the Asian Development Bank (ADB) agreed to cooperate in promoting the application of satellite technology to disaster management, climate change mitigation and adaptation, forest monitoring, and water resource management. On July 21, 2010, ADB President Haruhiko Kuroda and JAXA President Keiji Tachikawa signed a Letter of Intent (LOI) at a signing ceremony held at ADB Headquarters (Manila).

JAXA President Keiji Tachikawa commented at the ceremony, "I have found the conclusion of the LOI very significant for JAXA by opening a way for us, with our space-based technologies, to contribute to Asia's sustainable development which ADB is undertaking."

"From 1980-2006, more than 45% of the world's water-related disaster fatalities and 90% of affected people were from Asia. Climate change is a fundamental threat to achieving Asia's development objectives, and to life and livelihoods," said ADB President Haruhiko Kuroda in his welcome address for the workshop after the signing ceremony. "During and after floods, high resolution images of inundated areas from satellites can aide immensely in rescue and recovery. Deforestation and changes in vegetation, which have a significant impact on climate change, can also be easily monitored by satellites. Satellite information and technology, such as JAXA's, can contribute to the development of Asia and the Pacific region."

Based on this LOI, JAXA and ADB will cooperate in providing technical assistance to ADB supported projects using satellite data and will work on capacity development on the use of satellite data through the training of persons from national institutions in Asia and the Pacific region. In addition, JAXA is considering to assign personnel to ADB to facilitate future collaboration while the results of such cooperation will also be shared through workshops, etc.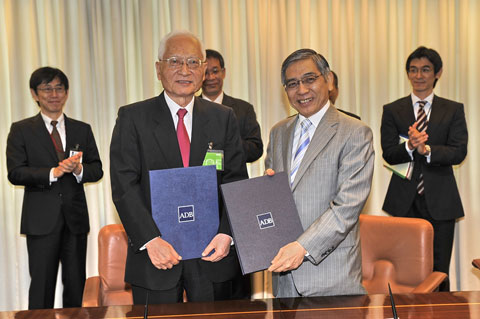 ((C)Asian Development Bank)