The Japan Aerospace Exploration Agency (JAXA) has established a broadband environment using the Wideband Internetworking Engineering Test and Demonstration Satellite "KIZUNA" (WINDS) as support for disaster measures for areas stricken by the Tohoku Region Pacific Ocean Coastal Earthquake.
The National Institution of Information and Communications Technology (NICT) has set up a high definition teleconference system using the KIZUNA between Kesennuma City (Fire Department Headquarters), Miyagi Prefecture, and the Tokyo Fire Department (TFD, at its Headquarters' strategy room), following TFD's request. High definition teleconferences, which enable real-time information sharing that is necessary for support activities in disaster-stricken areas, have been conducted since March 15. Based on a request from the Ministry of Education, Culture, Sports, Science and Technology, which received a petition from Iwate Prefecture, JAXA installed a movable ground antenna for the KIZUNA at the Iwate Prefectural Office (Disaster measures headquarters) and also in Kamaishi City (Local disaster measures office). Broadband lines were connected on March 20, and high definition teleconference systems, IP telephones, and radio LANs became available.

The following is the current status.

JAXA
NICT
Locations of broadband
line connections
Three locations:
Iwate Prefectural Office's disaster measure headquarters
Iwate costal broad area promotion office in Kamaishi City (Local disaster measures office)
Tsukuba Space Center
Between Fire Department Headquarters in Kesennuma City, Miyagi Prefecture, and Tokyo Fire Department Headquarters Strategy Room
Starting date
March 20
March 15
Line capacity
20 Mbps communication line
30 Mbps communication line
Application
High definition teleconference, Internet connection, IP telephone, radio LAN
High definition teleconference, file forwarding
JAXA and NICT will continue to work to establish broadband environments in disaster-stricken areas for swift information sharing of current conditions and the needs of each area. JAXA and NICT has been engaging in the technological development of broadband satellite communications using the KIZUNA that can assist in disaster measures, and the support activity this time is part of our development efforts.
Attachment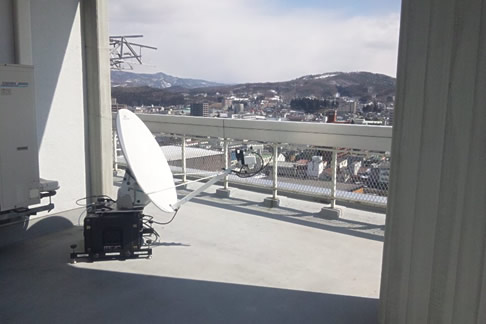 Ground antenna (movable VSAT) installed at the Iwate Prefectural Office (Antenna diameter 1.0 m)