Japan Aerospace Exploration Agency will launch the Spectroscopic Planet Observatory for Recognition of Interaction of Atmosphere (SPRINT-A) by the first Epsilon Launch Vehicle (Epsilon-1) in the following schedule.



Launch date: August 22 (Thursday.), 2013 (Japan Standard Time)
Launch time: between 1:30 p.m. through 2:30 p.m. (JST)*
Launch window: Aug. 23 (Fri) through Sept. 30 (Mon.), 2013
Launch site: Uchinoura Space Center
* The scheduled launch time range is for the launch on Aug. 22, 2013. The time range will rescheduled every day within the above range if the launch day is shifted.
JAXA held the Epsilon-1 message campaign for posting messages on our new launch vehicle between April 10 and May 7, 2013. We have received 5,812 messages (of which 5,360 are in Japanese, and 452 are in other languages.) Thank you very much for your participation. The design of the Epsilon-1, where your messages will be incorporated, was decided, and we would like to show you here in the following attachment.
(Attachment)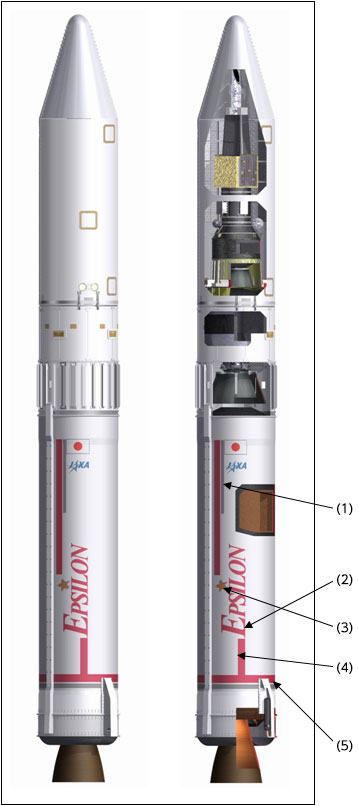 In addition to the Japanese flag of the Rising-Sun flag and the JAXA logo on the front and back on the upper part of the first stage, we came up with an original design while inheriting and developing the heritage of the solid-fuel launch vehicle.
Your messages will form part of the red line as strings of characters.
[Design concept]
We express our development and progress of our solid-fuel launch vehicle heritage by the logo design from the bottom toward the top.
(1) Vertical line (thin line): showing our one-step-up evolution and streamlining from our conventional development policy
(2) Logo: sharp lines and a big E emphasize "Epsilon (ε)"
(3) Star mark: indicating our strong desire and intention to probe planets
(4) Vertical line (thick line): shows our magnificent history from the Pencil Rocket through the M-V Launch Vehicle.
(5) Zone line (all around the launch vehicle): our traditional coloring with two colors for our solid-fuel launch vehicles.
---