In January of 2014, Weathernews Inc. and the Japan Aerospace Exploration Agency (JAXA) launched a collaborative research program to build a system for prompt rescue operations including a large number of disaster-relief aircraft.
Weathernews has developed a portable aircraft tracking system called FOSTER-copilot, which can be introduced easily as it is inexpensive and requires no installation. As of December 2013, around 45 helicopters have already started using the FOSTER-copilot system in Japan. Safer and more efficient aviation operation decision support is provided by integrating aircraft movement tracking information acquired by the FOSTER-copilot, with aviation weather information displayed on an operation decision support software tool called, FOSTER-GA.
JAXA, on the other hand, has been working on the research and development of "Disaster Relief Aircraft Information Sharing Network (D-NET)" that enables optimized task assignment to each aircraft during disaster-relief operations by transmitting and sharing information among aircraft and ground base stations and/or the headquarters through data communication in addition to providing aircraft position information. Without D-NET, the conventional means to share information have been through voice wireless communications or using a whiteboard.
The goal of the Weathernews-JAXA collaborative research project is to enable an integrated management of disaster-relief aircraft by sharing disaster information between FOSTER-copilot and D-NET-equipped aircraft and sharing unified data with ground terminals FOSTER-GA and D-NET terminals. This collaborative research is expected to contribute to prompt rescue and aid operations particularly in the case of a large-scale disaster through much smoother cooperation among each base such as ground disaster-measurement bases and operation headquarters as well as by safe and efficient flight operations of disaster-relief aircraft for medical transportation and rescue operations.

Details of Collaborative Research
Period: January, 2014 through March 2015

Major research scope:
The main goal of the research is to evaluate and verify the system effectiveness by utilizing Weathernews and JAXA original technology and performing flight experiments using experimental and medical helicopters.

FOSTER-copilot
Japan's first carry-on aircraft monitoring and control system
Weathernews developed Japan's first aircraft carry-on portable monitoring and control system, FOSTER-copilot for the mission of protecting the safety in the skies. FOSTER-copilot has started its service operation, and the system aims at safe and efficient operation management by acquiring aircraft location data. The positioning data obtained by the FOSTER-copilot appears in the operation decision support tool called, FOSTER-GA. This support system for safe and efficient helicopter operations has been achieved by integrating aircraft tracking data with weather information.
During the 2013 Prefectural Wide-area Medical Transportation Drill on August 31 which simulated a Nankai trough mega-earthquake, the system aided disaster relief agencies' decision making for medevac. FOSTER-copilot was installed on various aircraft and land vehicles, allowing for the integration of weather information and aircraft/vehicle positioning data displayed in FOSTER-GA. There were 11 medical helicopters, two disaster-monitoring helicopters and 10 medical/disaster medical assistant team (DMAT) vehicles that were equipped with FOSTER-copilot participating in the drill.
Integrated weather information and positioning data of medevac helicopters and DMAT vehicles shown on FOSTER-GA. (JFY2013 Cabinet Office Wide-area Medical Transportation Drill)

Confirming locations of each aircraft/vehicle at headquarters (JFY2013 Cabinet Office Wide-area Medical Transportation Drill)
Disaster Relief Aircraft Information Sharing Network (D-NET)
When a large-scale disaster such as an earthquake occurs, many helicopters fly into the disaster-hit area from all over Japan to conduct relief operations such as information gathering, emergency rescue, and transportation of people and goods.

JAXA has been developing a Disaster Relief Aircraft Information Sharing Network (D-NET) that enables more efficient and safe aircraft operations management by promptly allocating an optimum task to each aircraft depending on its capacity and functions through data communication and information processing technology.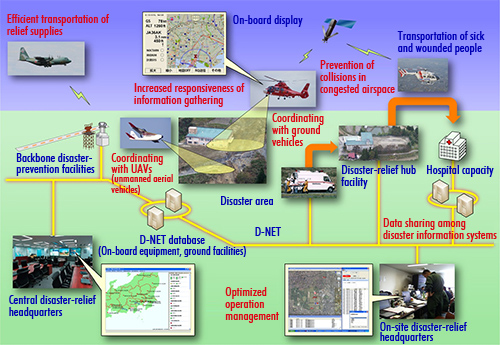 Since 2009, JAXA has been evaluating and renovating this system in cooperation with the Fire and Disaster Management Agency (FDMA) and Kobe City Fire Department.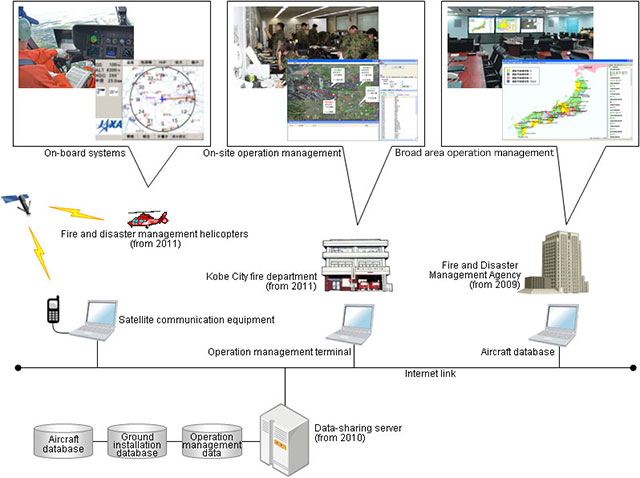 The efficiency of D-NET has been evaluated and verified at the Disaster-prevention day comprehensive disaster drill and wide-area medical transportation drill on September 1, 2012, as well as at the "Kinki Region Emergency Fire department support drill" on October 27, 2012.
Related link:
http://www.aero.jaxa.jp/eng/research/star/dreams/dnet/