Asteroid Explorer Hayabusa

Q. Do you feel that the public's interest in JAXA's enterprises is shifting? How is public opinion perceived at JAXA?
There used to be a sense of romance associated with space, which was reflected in the public's interest in space exploration. Today, however, people seem to be more interested in space exploitation in a more practical sense. More precisely, in addition to communications, broadcasting and meteorology, the public wants to see satellites bringing benefits in new areas, such as disaster preparedness and environmental management. The publication of Daichi's images ended up drawing a lot of attention. The public's view seems to be changing as their interest in the results of space development grows.
There also appears to be growing interest in human space activities. If this interest grows enough to make the government take notice and start reflecting it in policy-making, we, as an executive agency, will be ready. Furthermore, the outstanding achievements of the asteroid explorer Hayabusa (MUSES-C) and the lunar explorer KAGUYA are contributing to people's growing interest in space exploration. There is even support for new projects building on the achievements of Hayabusa and KAGUYA.
However, at the same time, it is undeniable that many people remain unfamiliar with JAXA's efforts. To win their support for Japan's aerospace R&D, it is very important to keep releasing information about our activities and achievements. To do so, we will continue to focus on public-information activities in 2008. As part of this, we plan to continue hosting town-hall meetings, which have been held 21 times to date, so we can directly exchange opinions with citizens to gain their support and understanding.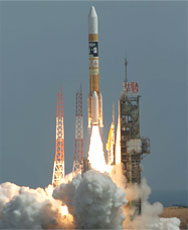 H-IIA Launch Vehicle No.13
Q. Do you think JAXA's reliability improved in 2007?
I'd rather say that JAXA's reliability has gradually improved over the last three years, since I became the president in November 2004. It is an agenda I have been committed to.
First, an office was set up to establish procedures to counter known flaws, while at the same time I asked everyone in the JAXA organization to familiarize themselves with these problems, in order to encourage a collective search for solutions. At the same time, we explored the impact of these known problems on other projects. We call this approach horizontal development. Meanwhile, to ensure the success of all missions, an external advisory committee was formed to study basic problems in development, and its impartial recommendations have since been reflected in our operations. With all these efforts, the infrastructure was in place to improve JAXA's overall reliability. The next step was to have the reliability of each project assessed not only by JAXA staff but also by external experts and former JAXA employees.
Action was taken especially on defects found during horizontal development. For example, finding a problem in the condenser of the Wideband InterNetworking engineering test and Demonstration Satellite KIZUNA (WINDS) led to the detection of the same problem in the lunar explorer KAGUYA, and allowed us to change the parts immediately. This procedure resulted in a month-long delay of KAGUYA's launch, but it was worthwhile as we were able to prevent a malfunction in space. I believe that all these efforts through horizontal development have helped JAXA improve its reliability.
Finally, we've had seven successful launches in a row - of vehicles H-IIA No. 7 through 13 - pushing H-IIA's launch reliability to 92.3%. A sign of JAXA's improved reliability can be seen in the decreasing number of problems occurring during the process of rocket assembly and launch.
Q. Looking back on last year, what areas of improvement still exist for 2008?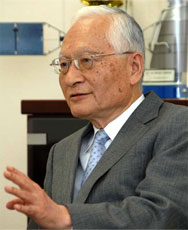 In 2007, the lunar exploration mission LUNAR-A was called off. Some people thought that it was an overdue decision. LUNAR-A was designed to investigate the inner structure of the Moon with penetrators, but struggles in development had forced us to put off the launch, which had originally been scheduled for 2004. By the time development was brought back on line, it was too late. The degradation of the spacecraft body, which had been completed in the original phase, was too severe. Considering the significant estimated cost of repair or reproduction, we finally came to the difficult conclusion that the project must be cancelled.
It seems to me that the spacecraft's degradation should have been noticed on site, but it did not come to light until last year. We were criticized internally and externally for not finding the problem earlier, and for not canceling the mission sooner to prevent greater financial loss. To avoid making the same mistake, we now have a system for thorough progress management. Large-scale projects need to move forward with all aspects kept in balance. To achieve this, all the progress of all projects will be monitored comprehensively from now on. In case a problem is found somewhere, the entire procedure will be stopped to make adjustments.