Q. What kind of international contributions are planned for this year?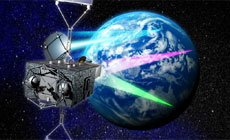 Wideband InterNetworking engineering test and Demonstration Satellite KIZUNA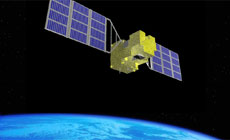 Greenhouse Gases Observing Satellite GOSAT

We have many international commitments, first and foremost to do with the International Space Station. Kibo will be launched soon, and we would like to fulfill our responsibilities in joint projects that involve 15 countries in total, including the United States, Russia, Europe and Canada. Space is a unique environment, with microgravity, cosmic radiation, vast views, high vacuum, rich solar energy, and so on. We are very much looking forward to conducting various experiments in such an environment, with hope that the results will help nurture industry and improve quality of life in the 21st century.
The Wideband InterNetworking engineering test and Demonstration Satellite KIZUNA (WINDS) will be launched this year, with great hopes for its ability to deploy high-speed, large-capacity communications across Asia. Although high-speed Internet infrastructure is nearly complete in Japan, many other Asian countries still do not benefit from this technology. I hope that with KIZUNA we will be able to help advance high-speed Internet communications throughout the region. In Japan itself, KIZUNA will play a very important role in ensuring uninterrupted communications with disaster areas, even if a big earthquake disrupts all other communications networks.
Also, the greenhouse gases observing satellite GOSAT will play a significant role in the area of environmental management on a global scale, especially as a part of the Global Earth Observation System of Systems (GEOSS). This international project monitors the globe from the ground, from the oceans and from space, to respond to global warming and climate change. GOSAT's cutting-edge onboard sensors observe greenhouse gases, which cause global warming, so we will be able to measure the degree of greenhouse-gas reduction achieved around the globe.
The 2008 G8 summit will be held in Toyako, Hokkaido, and reportedly the main item on the agenda is the environment. With GOSAT, we would like to further contribute to solving environmental problems.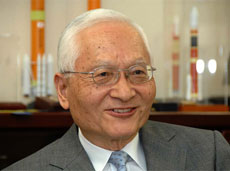 Q. JAXA opened the Space Education Center in 2005. What are your plans this year to promote space education?
JAXA's Space Education Center was established with five priorities.
1. To promote space education in schools. JAXA provides materials and information, and works with teachers to develop curriculum. I don't think it matters whether it's taught in science, social studies, or any other class, as long as the subject is around space.
2. To facilitate space-education programs nationwide. Last year we held "Cosmic College", a gathering more than 2,000 children at 35 different locations. This is basically a locally owned event, and JAXA's role is to give support in various ways.
3. To support university and technical college students who are involved in space-related activities.
4. To reinforce space education in international environments. For example, we send students to academic sessions at the annual International Astronautical Congress (IAC), where students gather from all over the world. To cultivate future human resources, we would like to inspire students to choose careers in the space field, by giving them an opportunity to meet space experts and foreign students.
5. To tell the world about JAXA's space-education activities, and to exchange information with other countries in order to encourage their participation.
JAXA cannot achieve these educational goals alone. We need the involvement of other organizations. For example, space science could be linked with marine science for more comprehensive science education. We also hope to collaborate with the Young Astronauts Club, which is engaged in promoting space and science nationwide. Through these efforts, we would like to reverse the trend of young people losing interest in science, and encourage more people to go into space-related fields.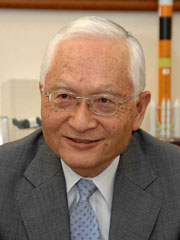 Q. Many nations recognize aerospace development as a national strategy. What is your view on this?
A number of nations, including the United States, Russia, European countries, China and India, are engaged in space development as a national strategy. In Japan, the Council for Science and Technology Policy decides basic policy, including planning for the space program. However, in my opinion, it is time for Japan to have a space strategy that is more comprehensive. JAXA is an executive agency, so our key responsibility will then be to actualize the national strategy.
Of course, a national strategy is a matter not only for JAXA, but also for other ministries responsible for finding and addressing new issues. After all, a national strategy requires broad involvement and commitment.
Your continued interest in and support for JAXA's efforts in 2008 are greatly appreciated.