Q. First of all, please tell us about your mission.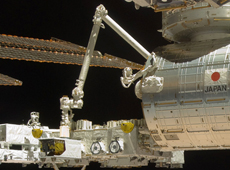 Robotic arm of the Kibo Japanese Experiment Module (courtesy: JAXA/NASA)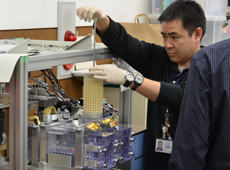 Astronaut Hoshide training to conduct life sciences experiments using the Aquatic Habitat
We are going to conduct a variety of experiments in the space environment. New tasks during my stay include releasing small satellites and conducting experiments using killifish. I'll tell you about the satellites first. The Japanese cargo transporter KOUNOTORI3, also known as the HTV3, will bring small satellites, 10 cm in diameter, and a release device to the ISS. The satellite will be assembled in the Japanese Experiment Module Kibo, put outside through Kibo's airlock, grabbed by Kibo's robotic arm, aimed in the right direction, and released.

In recent years, there is more and more demand for small-satellite launches. But despite its size, a small satellite is not something you can launch casually. To be launched alongside large satellites, the small ones need to meet the same strict requirements, such as being able to withstand the vibration on rockets. So the development of small satellites is relatively expensive. This time, however, the small satellites will be packed up and launched on the HTV3, so they won't have to clear such strict requirements. Another advantage is that we can continue testing them on the ISS until we're ready to insert them into orbit. And thanks to Kibo's airlock and robotic arm, we won't need to do a space walk to accomplish this. This method of launching small satellites may lead to the birth of a new business in the future.

Now, moving on to the killifish experiments. The Aquatic Habitat, where the killifish will live in space, will be delivered to the ISS by the HTV3. The killifish themselves will come on a Russian Soyuz spacecraft during my stay on the ISS. By taking care of the killifish in space for an extended period, we will be able to study the impact of zero gravity on living organisms, particularly on their bones and muscles. The findings are expected to contribute to the prevention of osteoporosis and muscle weakness on the ground.

Also, during my stay on the ISS, there will be two deliveries by the Russian cargo spacecraft Progress, one delivery by HTV3, and another by a U.S. commercial cargo spacecraft. Meanwhile, things we don't need will be packed on the HTV3, which will separate from the ISS and burn up in the atmosphere. My other task is to do daily maintenance, such as cleaning the inside of the ISS and water recycling. Educational events are planned as well.