Q. What kind of training have you had for the upcoming mission? How is it different from the training for your previous mission?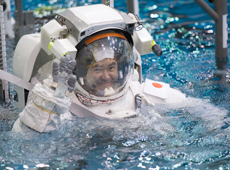 Astronaut Hoshide in training for extravehicular activity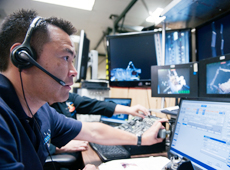 Astronaut Hoshide in training for the operation of Kibo's robotic arm
I have had a variety of training: conducting space-based experiments, operating the robotic arm, performing extravehicular activity, etc. The training for extravehicular activity was held in a large swimming pool with a mock-up of the ISS airlock. In the airlock training, we learned the whole sequence, from preparation for extravehicular activity, putting on a space suit and depressurizing the airlock, to increasing the pressure again in the airlock after coming back from extravehicular activity, and taking off the suit. I won't be doing a space walk related to the assembly of the ISS, but I had the training because occasionally there is the need for a space walk to do repairs on the ISS. So I'm prepared for it anytime.

In Russia, I had training on the Soyuz spacecraft and the ISS Russian module. The Russian module is controlled and operated by Russian cosmonauts, but we are all required to understand its important aspects. The training includes emergency situations, such as fire and emergency depressurization in the Russian module, and evacuation on the Soyuz aircraft. In such emergency situations, cooperation between crew members is very important. There is no room for error, so we had intense training to learn the correct procedures.

In my opinion, the major difference between training for a short-duration mission, such as a space shuttle mission, and training for a long-duration mission, like my next one, is whether the training is task-based or skill-based. For short-duration missions, you're training over and over for a specific task, such as the assembly of Kibo. A long-duration mission, in contrast, covers a wide range of tasks, so you practice skills to be able to deal with any situation that comes up.
Q. What was the most memorable moment in training for you?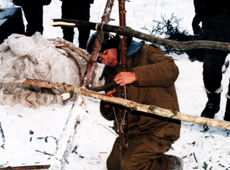 Astronaut Hoshide in survival training in Russia
All the training was memorable and fun. But, of course, some of it was challenging. For example, I had survival training for the Soyuz spacecraft on the assumption that it had fallen in an unexpected area. The training was held in the extreme cold of the Russian winter, and it was tough, for sure. But such training gives you great satisfaction in the end. It's a rare experience. I seem to find pleasure in various experiences, including going to space, even if they are tough.