--- You are now working with JAXA on a project to explore one of Saturn's moons, Enceladus.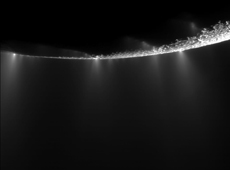 Water vapor spewing from the vicinity of the south pole of Enceladus (courtesy: NASA/JPL/Space Science Institute)
We are still at the concept level, but, with Dr. Hajime Yano and his colleagues who were responsible for the sample collection by the asteroid explorer HAYABUSA, I am planning a project to send a probe to Enceladus to look for evidence of life. Enceladus is one of the moons of Saturn, and NASA's Cassini spacecraft has confirmed that there is seawater spewing from its surface. If we can bring a sample of that seawater to Earth, we'll be able to study whether the composition of the ocean has the conditions to support life. If the mission goes as planned, it will be possible to start research on Enceladus seawater within about thirty years. I will be 70 years old. People who will be working on this may not have even been born yet. What you start is taken over by the next generation – this is the beauty of science.
--- If extraterrestrial life is found, do you think anything will change?
It will make no difference in most people's lives (laugh). However, I am sure about one thing: biology will become a real science for the first time.
--- What do you mean by that?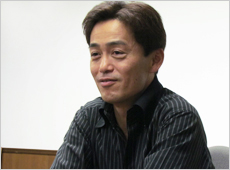 Whether on Earth or in space, physics and chemistry are sciences that can be applied anywhere. Biology, on the other hand, is limited to living organisms on Earth. By learning about extraterrestrial life, we will be able to find out whether organisms on Earth are universal or special. Finding the answer to this will be quite a dramatic event, and will bring a revolution in the world of biology, which has a history of 2,600 years. In that sense, Mars is relatively close to Earth, so its history may have something in common with the history of life on Earth. Therefore, I think, finding life on Enceladus will have more significance. And of course, the chances of finding evidence of life on Enceladus are much higher. This is also a very important aspect.
--- For the project to move forward, JAXA first has to have success with the HAYABUSA 2 sample-return mission, right?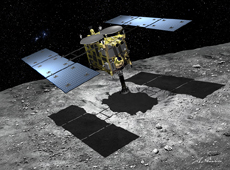 Asteroid explorer HAYABUSA 2 (courtesy: Akihiro Ikeshita)
HAYABUSA 2 is a mission to go and search for precursors to life. Through this mission, I hope that JAXA, as an organization, will learn about biogenic matter in our solar system, and think deeply about life – how it was born and what it is. I'm afraid I've never heard JAXA scientists talk about JAXA's view of life. Sometimes I'm inclined to ask if they've ever really, seriously thought about life. Without a good understanding of life, it's impossible to scientifically seek life in space. Probably there's no one who thinks about the essence of life more seriously than me, so I recommend that JAXA appoint me captain of extraterrestrial life exploration (laugh).