--- Now, what are your dreams?
There must be unknown organisms living quietly at absolutely dark, unexplored deep-sea hydrothermal vents. I'd like to be the first to discover them. My dream is to keep on running towards my scientific goals, and suddenly collapse and die when I'm halfway there. That's how I want to leave this world.
--- I can picture you continuing to make new discoveries and pumping your fist. I've heard that when you make a discovery, you feel victorious. What is it exactly that you win against?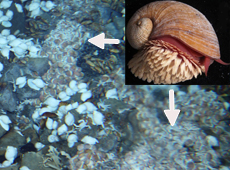 From a 2009 survey in the Indian Ocean. Dr. Takai felt victorious when he found a group of white scaly-foot snails on sea floor. The whitish and brown shells are scaly-foot snails. (courtesy: Ken Takai/JAMSTEC)
Against myself. I would say it's like winning at the end of a long race, after overcoming the moments when I felt almost discouraged or defeated. I've been to the deep sea almost thirty times, but it's not like anyone who wants to go can go. In my case, I've been able to go so many times because I have sort of a con artist's talent that allows me to write a good proposal, with all my imagination and obsession, and to get my bosses to like and approve it. Needless to say, I've been given those chances because I've proven with my performance that I am not a con... I always feel the pressure to find something, or else I will be in trouble. So fighting against the worry and fear, I always try to lift my spirits, telling myself to believe in my imagination. This is why I feel victorious when I discover something.
--- If you were to give advice to young scientists, what would it be?
I would like them to embrace the fact that they are doing research out of fun and curiosity. In other words, scientists should not confine themselves.
--- What do you mean?
For instance, I am asking the Science Council of Japan to give us a budget for building the SHINKAI 12000. The people who evaluate such projects at the council are scientists too, but nonetheless, they ask us whether there will be enough quantitative results to justify a budget of tens of billions of yen. In my mind, scientists shouldn't be talking so cheap. I want to hear them say instead, "We don't know what kind of an outcome we can expect from this. If you have confidence that you can get priceless research results big enough to change the way people see the world, go for it. But if you fail, you take the responsibility." You never know what kind of profit is hidden in the results of exploration. If there is a big risk and a chance of a big return, whether you get intimidated by the unknown risk or invest in the possible gain – I think that decision should not be up to scientists but to the nation. Then I think the nation should make the decision not only based on logic but also with a vision and attitude for the country it aims to be.
I believe it's priceless – worth more than tens of billions of yen – that many children are motivated to work at JAMSTEC, or at a research institution, company or organization that has something to do with marine projects; or if they have a dream and study hard to achieve it, or interact with many people; or more indirectly, if they become interested in oceans, living things, or the environment. And I believe that a national budget should be spent on things like this. It is not the business of scientists to explain how our lives will be better if a certain amount of budget is allocated. But because scientists are forced to do this, they get more and more discouraged from enjoying research, and as a result, dreams are being taken out of science. Even if people think that I am crazy, I will not stop asking for money for my dreams, because selling dreams is a scientist's job.