Q. How do you want humanity and space to work together in the future?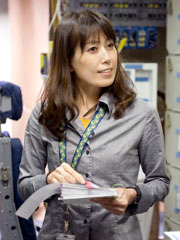 Training in a shuttle mission simulator (Courtesy of NASA)
I was very surprised in science class at elementary school when I learned that human beings are made of almost exactly the same things as stars - oxygen, hydrogen and nitrogen. Since the stars we see in the night sky are made of the same things we are, we humans are siblings of these stars and a part of space. When I realized this, I felt a bond with space. Going to space could indeed be a challenge, but to me it feels special, like I'm going back to my old hometown or something. I feel it's very precious that we were given life in the vastness of space, where we and the Earth make up such a small part of the universe. I cherish such feelings, and I hope humanity and space can get along well.
Q. Tell us about your ambitions ahead of the STS-131 mission.I will be the first female Japanese Mission Specialist going to space. I feel I am just as qualified as the astronauts from NASA, and I am looking forward to my trip as an engineer. This mission will involve the operation of the Space Shuttle, including its robotic arm, so I would like to perform my job well and pave the road for the next generation of astronauts. I think I was selected for this mission in part because of the fabulous achievements of previous Japanese astronauts. Like them, I would like to lead the mission I'm part of to success, and to make it easier for the next person.
Astronaut Noguchi left for space aboard the Soyuz spaceship in December 2009, and is staying on the ISS. If the launch of my Space Shuttle goes as scheduled, I will be on the ISS with him. It will be the first time two Japanese are in space at the same time. Such an occasion is very rare, so besides working together with him, I hope we can introduce Japanese culture to the world. I also want to show the joy of space to as many children as possible.