Q. How often do you plan to launch these satellites?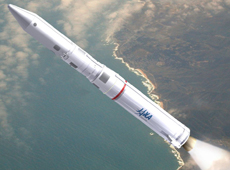 Epsilon Rocket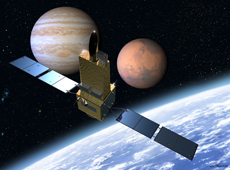 SPRINT-A, the first small scientific satellite
We aim to launch three satellites in about five years. We could launch as a piggyback satellite on an H-IIA rocket, but then we'd have a much more restricted choice of the timing of the launch and the orbit. A large-scale satellite project launched onboard a large rocket such as the H-IIA takes a long time to develop, so launches don't happen often. Therefore, JAXA is also developing a solid-fuel rocket, the Epsilon Rocket, to allow us to launch more frequently and at less cost. Q. What was the motivation behind the development of the small satellite series?JAXA's Institute of Space and Astronautical Science has frequently launched mid-sized scientific satellites. However, these satellites have become larger and more complicated, as the needs of researchers have increased. Consequently, development time has gotten longer, and cost has gone up, which means scientific satellites are now launched less frequently. Scientific satellites can have many different purposes, such as X-ray observation of a black hole, infrared observation of a celestial object in wide scope, observation of magnetic fields in geospace, and planetary exploration. However, with fewer launches, there are fewer opportunities to piggyback on those launches with smaller, more specialized satellites. This discourages the development of new Japanese technology, and reduces the opportunities for our scientists to get experience working with scientific satellites. This is why it became essential to have a framework for launching scientific satellites faster and cheaper. Q. Why do you think small scientific satellites are needed now? If Japan wants to be the most advanced nation in the field of space science, it is very important to constantly conduct new observations and new research. If no action is taken now, there is great concern that there will be much fewer new scientific satellites within any one area of science.
This will mean less observation, and fewer significant scientific achievements. To prevent this from happening, I think it is important to have the ability to develop satellites quickly and efficiently. This will create more opportunities for scientific satellites from various fields.
In addition, frequent satellite launches will help develop young scientists. Without experience, you cannot grow. But if a scientific satellite is launched only once every 10 or 20 years, it will not only make it difficult for scientists to learn and acquire experience, but will also make it hard for that experience to be passed on from one generation to the next. If that's the case, we may face a deterioration of Japan's scientific expertise. I believe that building a series of small scientific satellites can contribute a lot to the development of scientists and the advancement of Japanese science.