Q. What will the first small scientific satellite be like?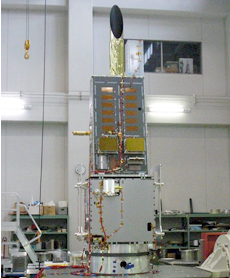 First small scientific satellite in mechanical environmental test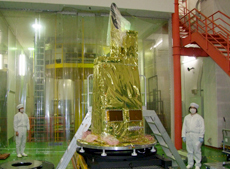 First small scientific satellite in thermal environmental test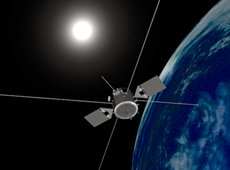 ERG satellite, one of the candidates for the second small scientific satellite
The first small scientific satellite, SPRINT-A, will observe the atmosphere of Venus, Mars and Jupiter in extreme ultraviolet (EUV) from Earth orbit, at an altitude of about 1,000 kilometers.
EUV is a range of light suitable for observing planetary atmosphere, but EUV radiation coming from space is absorbed by the Earth's atmosphere, so it is not observable from the ground. Hence the observation has to happen in space. Very little outer space observation with EUV has been done, so scientists are expecting new discoveries that no one has ever imagined before.
The tangible objective of this mission is to explain the mechanism of the outflow of planetary atmosphere. Like the Earth's, the upper atmosphere of planets such as Mars and Venus is stripped away by the solar wind and flows out into outer space. By observing this phenomenon, we will investigate how the solar wind affects the upper atmosphere of planets, and how the planetary atmosphere escapes into outer space. Eventually, we hope to identify the conditions that allow a planet to hold onto its atmosphere. This will help us understand how the Earth holds onto air, which is essential for life, and how its atmosphere is sustained. We will also study the plasma outflow from the Jupiter satellite Io, to try to understand how plasma energy is supplied to Io's upper atmosphere. These will deepen our understanding of the diversity of planetary environments. Q. What is the development status of SPRINT-A? And what are the plans for subsequent satellites? The launch of the first small scientific satellite is planned for 2013, and we are now conducting tests with a mechanical test model and a thermal test model. In these tests, we examine whether the mechanical design of the onboard electronics can withstand the impact, shaking and heat during launch. After these tests are done, it will finally be time to build a flight model. This is the first time we'll be developing a satellite using the international SpaceWire standard. Introducing SpaceWire and at the same time maintainting an efficient development process has been a new technical challenge for us.
As far as the second small scientific satellite goes, we have multiple candidates. One is ERG - Energization and Radiation in Geospace - which will observe magnetic fields in geospace. This one will be spun its on its axis to stabilize its attitude, whereas SPRINT-A needs sophisticated orbit correction to observe its target planets, so it applies three-axis attitude control, where the three axes (longitudinal, latitudinal and vertical) are stabilized individually. If we can apply these two completely different attitude control methods within the same series, it will have a great impact on satellite science. Q. What are your hopes for the future of small scientific satellites?I hope that small scientific satellites will be used not only for science but for other types of missions as well. Our goal is to build "semi-made-to-order" satellites to cover various needs, so we would like to see their use expanded beyond science, to commercial applications.
For example, we are conducing joint research with ASNARO (Advanced Satellite with New system ARchitecture for Observation), on a satellite that will be launched by USEF (Institute for Unmanned Space Experiment Free Flyer), which is run under the supervision of the Ministry of Economy, Trade and Industry. ASNARO is led by the ministry, and is the first step in a large-scale program that includes plans for the export of artificial satellites in the future. For the basic mechanics, we will apply the same technology used for JAXA's small scientific satellites. At this very moment, we are conducting a development test together.