Q. Can you tell us about your main role in this mission?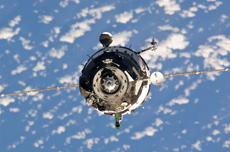 New model Soyuz TMA-M spacecraft. This is the model that will take Astronaut Furukawa to space. (courtesy of NASA)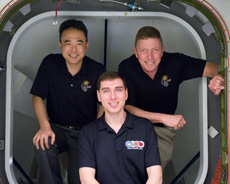 Astronaut Furukawa (left) with fellow crew members from his upcoming Soyuz space flight: Cosmonaut Sergei Volkov (center) and Astronaut Michael Fossum. (courtesy of JAXA/NASA)
There are two main tasks. The first is to work in a Russian Soyuz spacecraft on the way to and back from space. The Soyuz can carry three people. I'm going to support the Commander as Flight Engineer. I will work with him to operate the spacecraft until it docks with the International Space Station (ISS), and on the return trip to Earth as well.
The second task is the work I will carry out during my five-and-a-half months on the ISS. That includes performing various scientific experiments, as well as repairing faltering systems on the space station and controlling the robotic arms.
Q. How do you feel about the teamwork with the other crew members aboard the Soyuz?
Three people are going to board the Soyuz spacecraft: an American, a Russian and myself. This team is pretty good. American Astronaut Michael Fossum came from the U.S. Air Force and he's a big-brother type person and very dependable. He is going to be Commander of the ISS during the latter half of this long-term expedition. Astronaut Fossum is a Mission Specialist for Extravehicular Activities (AKA space walks), and previously flew to the ISS with Astronaut Akihiko Hoshide on a mission to attach the Pressurized Module to the Japanese Experiment Module Kibo. Russian Cosmonaut Sergei Volkov, who is going to be Commander of the Soyuz spacecraft, is from the air force as well. He's a mature person and a good leader. He's a second-generation cosmonaut, following in his father's footsteps. The three of us have been happy training together, and I feel like we are getting along very well.
Q. What part do you specifically want the public to pay attention to on this long-term expedition?
I'd like people to pay attention to the part where I can use my experience as a doctor. While in space, various changes to the body take place: astronauts' bodies stretch and become taller, they have lower-back pain, the upper body becomes thicker, the face swells, and the legs become thinner. I would like to share these experiences with everyone from the perspective of a doctor. Personally, as a gastro-intestinal surgeon, I'm very interested in seeing how having a full stomach would feel in space. I hope to report back first-hand about the differences in the way my body feels in space and on the ground.
In addition, if my fellow astronauts should happen to get sick or injured, I can examine them and manage the situation in cooperation with doctors on the ground. On the ISS, there is a set of tools to perform an emergency operation, for example if a crew member suffers a sudden cardiac arrest. So if something happens, I may need to perform minor surgery. Also, JAXA invited the public to suggest space-medicine experiments that would study how the human body changes in space. There were 110 proposals, of which JAXA selected ten. I'm looking forward to performing these experiments in space.