Q. What's are some of the differences between training in Russia and in the United States?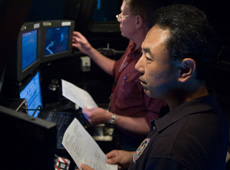 Operation training for the ISS robotic arm.
In terms of learning "skills" to deal with emergencies, I think the training in both countries is essentially very similar. It means that we need to be well prepared for any emergency cases, be able to and apply the experience through training even if an unforeseen situation arises.
The only thing that was different was that in Russia, on each major topic, we had one instructor who taught everything. For example, if there are 50 hours of classes on the Soyuz spacecraft attitude control system, the same instructor teaches the whole entire course. Many of the instructors have been teaching there for close to 30 years, and they are like walking dictionaries. They sound like they know everything there is to know about the history of the Soyuz. In the U.S., on the other hand, a different instructor teaches each sub-topic. I'm not trying to say that one method is better or worse. I was just surprised when I saw the depth of Russian space development.
Q. What was the most impressive training you've ever gone through?

Survival training in Russia.
All in all, I would say it was survival training in Russia. In terms of physical arduousness, it left a deep impression on me. A Soyuz spacecraft with us three astronauts aboard will land on a plain in Kazakhstan when we return, but in an emergency, we might touch down in snowy Siberia, or in a body of water such as the Caspian Sea. We trained to deal with such emergency cases in winter with temperatures of -20°C. I had to spend 48 hours outside, but the wind was very strong and with the wind chill, the temperature measured -30°C. Thus even though I was wearing multiple layers, I still felt cold. I cut down a tree in a nearby forest using an axe and a knife that were in the survival kit aboard the spacecraft. We used the tree to build a fire, and took turns watching the fire at night. It was winter, so the sun would come up around 9 a.m. and it would get dark around 4 o'clock in the afternoon. The nights are long, dark and cold over there. When I was working as a surgeon, I could catnap whenever I could find a little time, but during this training, for the first time in my life, I couldn't sleep because I was so cold. I thought my hands might get paralyzed from frostbite, and I think it was this training that toughened me up both mentally and physically.
Also in Russia, we trained for manual return mode using a centrifugal accelerator. A centrifugal accelerator simulates the gravitational constant (G) at the time of launch or return to Earth, and it can create the condition where you can feel the G on your chest toward your back. Normally, a spacecraft would be operating in automatic mode on the return trip, but in case of emergency, we have to be able to operate it manually. So we had to learn to do this while experiencing high G. During high-G training, gravity of up to 5G, which is 5 times your own weight, is forced on your body, and we still have to be able to operate in a calm manner. Since I'm the Assistant Commander, I have to be able to operate the spacecraft if the Commander is incapacitated. This training really brought home the importance of my job once again.