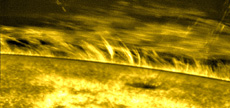 Cold plasma floating in the corona above the solar limb. Alfvén waves were observed for the first time, extrapolated from fluctuations of the plasma.


The corona is the outer atmosphere of the Sun, about 2,000 kilometers above the Sun's surface. It consists of gas at over one million degrees Celsius, compared to the temperature of the solar surface, which is about 6000ºC. Why is the Sun's corona so hot? This is the ultimate mystery of the Sun. Solar energy travels from the Sun's interior to its surface, so, theoretically, the temperature should decline as it moves outward. In reality, however, the reverse occurs. The temperature increases dramatically - as much as one hundred times - as it travels away from the solar surface to the Sun's corona. This phenomenon has not yet been explained. But the theory is that energy created by turbulent, convective motions on the solar surface is transmitted along magnetic field lines to the corona, where the gas is heated by dissipating the energy. There are two major hypotheses about the details of this physical process. One holds that the Sun's atmosphere is heated by small eruptions on its surface. Many explosions called nanoflares (much smaller than the massive explosions known as flares) are occurring on the surface and are the source of energy for coronal heating. The other hypothesis proposes that convective motions on the solar surface cause magnetic field lines to fluctuate, generating waves along them. These waves eventually reach the corona, and provide the energy that heats it.
HINODE has provided the first detection of such a wave along magnetic field lines. In this image, the limb of the Sun is at the center, and above it, there are many structures stretching out horizontally, called threads. These are pockets of cooler gas floating along magnetic field lines in the corona. When we analyzed their motion, we found that these pockets fluctuated up and down. We interpreted that these phenomena are a manifestation of Alfvén waves: vibrations that are generated along magnetic field lines. Using cooler gas floating in the corona, we identified the dynamics of invisible magnetic field lines. The Solar Optical Telescope (SOT) aboard HINODE was able to observe these waves for the first time. They had gone undetected because their amplitude is so small.
The discovery of Alfvén waves in the solar atmosphere is a remarkable step in our understanding of the coronal heating. But we still aren't ready to fully explain coronal heating and need more observations.