Q. What are your expectations for the BepiColombo mission?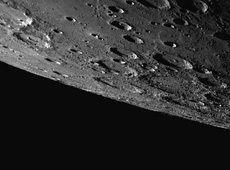 Mercury surface (Courtesy of NASA/Johns Hopkins University Applied Physics Laboratory/Carnegie Institution of Washington)
What we know about Mercury so far defies common sense. When a small planet is created, it should cool down very fast and become rock solid. Then it's not supposed to have a magnetic field. But Mercury does have a magnetic field. In addition, there is very little atmosphere around Mercury, and the magnetic field touches the planet's surface directly, so do ionized gases from space hit the surface directly.
On Earth, we have a phenomenon called aurora [known in the northern hemisphere as northern lights], which produces luminescence when plasma particles from the Sun strike the atmosphere after being captured by a magnetic field. Since Mercury also has a magnetic field, we believe that a similar but different kind of dynamic phenomenon occurs frequently there. I'm interested in the physics of gases in space, so from this perspective I'd like to know what's going on in space around Mercury. It is very important to compare data from the vicinity of Earth and Mercury, which have similar but different environments, in order to understand the physics of space gases in the universe.
Until now, I think we could imagine the conditions on another planet based only on our knowledge of Earth: "Since Earth is like this, this planet should be like that." But once our orbiter reaches the planet, we can actually acquire empirical knowledge, which is completely different. We can study and understand another planet as precisely as we've studied Earth, by actually going there. And when we find something, we shouldn't stop at saying "wow!" It's important to delve deeper, to think about why this phenomenon occurs, what kind of scientific laws are at work, and so on. I'd like to deepen my understanding of planets by using the precise data captured by BepiColombo on Mercury to try to figure out the universal laws of space.