Q. What is the significance of exploring another planet in the Solar System?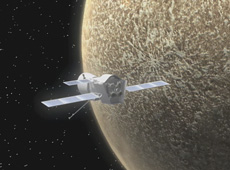 Coupled MMO and MPO, right before injection into the orbit of Mercury (Courtesy of ESA)
"I want to go somewhere I've never been before" or "I want to see a different world" are examples of the curious nature of humans. I believe this inquisitiveness can be extended to planetary exploration, although, of course, if you want to visit an unknown world, you can't simply go. So many researchers and engineers have been working hard on the BepiColombo mission. As we speak, these people are trying their best to complete this mission successfully. I think their efforts will create a lot of good. I also believe that making an effort to stimulate your curiosity is part of human nature, so I'd like to put my efforts into keeping this part of our personality vibrant.
Q. Have you been interested in space since you were a child?
When I was a child, I used to play soccer all the time. I was interested in how things work in general, but not space specifically. But then I realized that space is a very useful venue to figure out how everything works, because many strange things happen there. My original specialty was computer simulation of space phenomena. Specifically, I'm interested in the phenomena created by the gases that fill space.