Q. What kind of work is being done with the curation facility?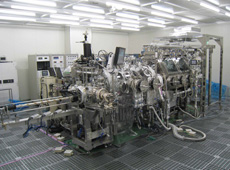 Curation facility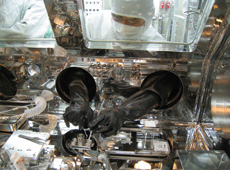 Working with gloves inside the clean chamber
We've been using the curation facility to unseal the sample-storage container from the returned capsule, to recover and measure the size of the sample particles, simple component analysis with electron microscopes, cataloguing, storage, and allocation to researchers. Each and every particle is assigned a control number and classified according to size and mineral type. We also record where the sample particles came from and their history. After classification, the particles are stored.

The sample particles are up to 0.2 to 0.3 mm in diameter, but most are very small, 0.01 mm or less. To retrieve them one at a time, we use special devices called micromanipulators, with electrostatic control that grabs and removes the dust particles with static electricity. There are two kinds of micromanipulators: one handles samples with a diameter of 0.01 mm or more, which are visible with an optical microscope, while the other handles samples with a smaller diameter, which we can only observe with an electron microscope.

We control the micromanipulators manually with gloves installed in a clean chamber, but we have to pick up the particles while looking through a microscope, since they are invisible to the naked eye. Because the work is very precise and delicate, it takes one day, on average, to retrieve a single particle and put it in storage. So far we have catalogued 200 Itokawa dust particles (at Nov. 2011), a number that is still continuing to grow.

The particles are kept in a sealed, high-purity nitrogen environment called a clean chamber, which is installed inside a clean room, to keep out contaminants in the air such as oxygen, which would oxidize them, or moisture, which would change the water quality. The sample brought to us by HAYABUSA is something mankind would never have obtained otherwise. Even if we send another probe to Itokawa, the new sample would be collected from a different spot. That's why we absolutely cannot allow our sample to be contaminated, and we want to retrieve as many particles as we can, even if we only get a few.
Q. You were in charge of developing the curation facility. What sort of difficulties did you encounter?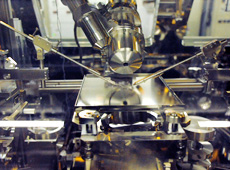 Micromanipulators installed inside the clean chamber
The JAXA curation facility is unlike anything else in the world. These Japanese-made tools can handle extraterrestrial particles in Earth's environment without contamination or loss. It is also far more compact than the curation facility NASA used to handle moon samples. That facility weighed hundreds of kilograms. Our facility has been customized to process infinitesimal, microscopic samples cleanly, without contaminating them. There's never been anything like this in the world, so when we were determining the specifications we solicited a wide range of opinions from specialists around the world. And even though we got a lot of useful advice, we were unable to satisfy all the requests due to budget and time constraints, so it was very difficult to choose which ones to adopt.

The curation facility took three years to build, starting in 2005. In 2008, we conducted capability testing; in 2009, we practiced; and when HAYABUSA finally returned we installed the micromanipulators. At first we hadn't thought of installing these tools, but we figured that, given the conditions under which HAYABUSA collected the sample, it would probably be extremely small, so we decided that the micromanipulators would be needed after all. These tools have special oil-free specifications, designed to move smoothly without using lubricants so as to not contaminate the clean chamber's high-purity nitrogen environment. It was challenging at first to make these sorts of devices, but with the help of manufacturers from other countries we were able to finish them within about six months of the decision to install them. I think it would have been extremely difficult to retrieve the Itokawa dust particles without the micromanipulators.