Q. What kinds of things do you anticipate from future asteroid exploration?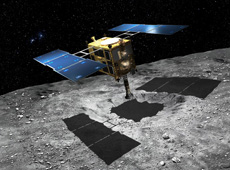 Asteroid probe Hayabusa 2 (courtesy: Akihiro Ikeshita)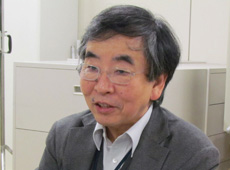 Putting the experience and knowledge we built up with HAYABUSA to good use, the HAYABUSA 2 mission will collect a carbonaceous sample, which has a high probability of containing organic matter, the fundamental building blocks of life. So, first, I expect HAYABUSA 2 to be a success. Then after that, I'd like us to proceed with an inquiry concerning where we came from and how life came about. It would be great to uncover the origins of the solar system, Earth, the other planets, and life itself by getting information that we can't obtain here on Earth. I'd like us to open up new lines of scientific inquiry that seek to discover these origins.
Q. Will the curation facility be used for HAYABUSA 2 and other missions in the future?
I think it has to be. But the intervals between sample-return missions are long - we don't have one every year - so we'll need to upgrade our analytical devices and various other tools. In addition, this facility was made to handle material from a rocky S-class asteroid like Itokawa, so it's not completely compatible with the material from the carbonaceous C-class asteroid that HAYABUSA 2 will visit. We expect this C-class asteroid to have lots of organic matter among the materials on its surface. And that poses a problem. Humans are, of course, made up of organic matter, and we carry large amounts of all kinds of bacteria. So even if we go through all the trouble of getting carbonaceous material that might contain organic matter, we could easily end up contaminating it with our own bodies. That's why we may have to think of a new way to keep out contaminating organic matter, perhaps, in an extreme case, by working from behind a shield of some sort. I'd like to use the lessons we've learned thus far to enhance our curation facility for HAYABUSA 2, and for other sample return missions to the Moon and Mars.