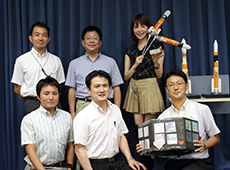 Project manager Takeshi Fujita, back row, center. H-IIA Upgrade Project team and Ms. Saeko Ishida at the recording of a JAXA program reporting the latest news on aerospace.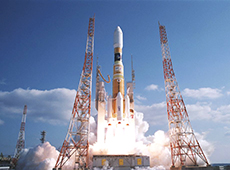 H-IIB launch vehicle
Q. If you compare the current status of your mission to mountaineering,

Around the 7th station. We can see the top and need to hang on just a little longer to make it there.

Steep ascent for a while. At the end of the ascent, we can see a wall to climb over to reach the top.

We have a good, clear view, but a strong wind seems to be blowing.
Q. People, time, things: which of these would you like more of? Place in order of preference.
Nothing else but people.
Q. What aspect of your mission do you want people to take note of? What is the selling point of your mission?
Aiming to acquire significant technology that leads to the future, and also advances Japan's flagship launch vehicles.
Q. What is your priority in management?
To articulate our goal, and to put people's minds together to get them looking in the same direction.
Q. What is your favorite genre of books? Do you have a favorite book?
Historical novels set in the time of the Meiji Restoration, from which a new Japan emerged: Saka no ue no kumo (English title: Clouds above the Hill) by Ryotaro Shiba.
Slightly fantasy: Haruki Murakami
Essay-like comical manga: Makoto Shiina
Q. What is your motto, or favorite saying?
Do your best and leave the rest to God.
Q. Do you have a message for visitors to this website?
Japanese H-IIA and H-IIB launch vehicles are excellent, highly reliable rockets – symbols of Japan as a technological superpower.They are the result of about 40 years of effort by those who've worked on the projects, and of contributions from the national treasury.We would like to continue to treasure and nurture such precious property. Your support and encouragement are greatly appreciated.
Related link: