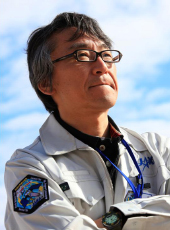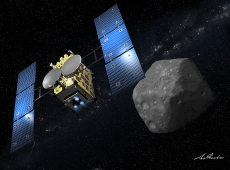 Courtesy: Akihiro Ikeshita
Q. If you compare the current status of your mission to mountaineering,



Q. People, time, things: which of these would you like more of? Place in order of preference.
Time, people, things
Q. What aspect of your mission do you want people to take note of? What is the selling point of your mission?
There are many ways of using space technology. Weather observation, communications, broadcasting, Earth observation, astronomy, and positioning – this is what we've done to date. And there is one more: space exploration. HAYABUSA 1, which returned to Earth in 2010, and HAYABUSA 2, which will be launched in the future, are not satellites but explorers.
Q. What is your priority in management?
To facilitate operations.
Q. What is your favorite genre of books? Do you have a favorite book?
History of science and history of technology
Zerosen no Isan (English title: Eagles of Mitsubishi: The Story of the Zero Fighter) by Jiro Horikoshi
Q. What is your motto, or favorite saying?
To catch a weasel asleep
Q. Do you have a message for visitors to this website?
The HAYABUSA 1 mission was the first ever to bring an asteroid sample to Earth. To humans, asteroids had always been just particles of light seen with a telescope; now, one is in front of us as a grain of sand under a microscope. The next technological innovation, HAYABUSA 2, is expected to offer us a new outlook on the world as well as broadening our sphere of activity.
Related link: Asteroid Explorer HAYABUSA 2