Q. What kind of environmental work do you do?


My job is to apply GIS [Geographical Information System] and Remote Sensing technology in forest management and protection in Vietnam. Currently, I manage a receiving station for acquiring satellite imagery from MODIS [the Moderate Resolution Imaging Spectroradiometer aboard NASA satellites Terra and Aqua] and NOAA [the meteorological satellite of the United States National Oceanic and Atmospheric Administration], and I also manage a Web site for forest-fire risk forecasting and early detection [www.kiemlam.org.vn]. The Web site shows the results from each satellite passing over the sky as well as meteorological data from Vietnam's National Hydro-Meteorological Service. Besides that, I monitor forest change using MODIS, NOAA and other relevant satellite imagery, such as LANDSAT. Every year, I make forest status and NDVI [the Normalized Difference Vegetation Index] maps of Vietnam to track changes in our forests.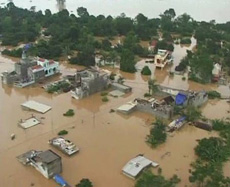 Flood in Hanoi (Courtesy of MARD)
Q. What kind of environmental issues does Vietnam have today?

Vietnam, like many countries in the world, has been faced with many different environmental problems resulting directly from booming socioeconomic development, as well as global warming and climate change. These problems include wildfires, flooding, landslides, water and air pollution, oil spills, etc. We are actively managing and monitoring these problems by strengthening our personnel capacity and technology, as well as cooperating internationally. For instance, we have joined the ASEAN agreement on transboundary haze pollution in the Sub-Mekong region.

Q. SAFE prototyping began last year. Can you describe the aspects of the system you are using? And what impact does this have?

Last year, our agency began using the SAFE prototype for forest monitoring using satellite imagery from MODIS, ALOS and SPOT [a French Earth observation satellite]. We had strong support from the Institute of Industrial Science; the University of Tokyo, which provided the training, and JAXA, which provided the datasets.
This system had a positive impact on our capacity building in forest management in Vietnam. This summer, we will go to the University of Tokyo to learn more about processing satellite imagery for forest monitoring.

Q. How will the SAFE project change environment protection in Vietnam?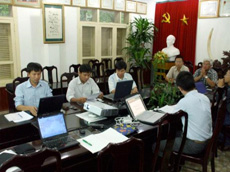 Meeting of the SAFE project in Vietnam (Courtesy of MARD)
I appreciate the SAFE project's approach of involving three agencies (Prototyping Executors, Technical Supporters and Data Providers), to provide close collaboration in problem solving. It is better than having only one.
Through the SAFE training course last year, we learned how to monitor forest change using remote sensing techniques. The course mostly concentrates on forest status as well as measuring forest changes from fires and deforestation, but we can expand this knowledge to other areas, such as flood monitoring. I think the SAFE project will contribute to various environmental measures in Vietnam.

Q. What do you think of the Sentinel Asia project, which supports disaster monitoring?

I had a very good opportunity to take part in a meeting with JAXA in February 2006 in Hanoi about the Sentinel Asia project. At that meeting, I realized that this project is extremely important and useful for the several billion people living in the Asian region, which confronts so many natural disasters, such as tsunami. The success of this project is the participation of so many organizations in the region. Together we can share data and capacity building, leading to the foundation of a Web site that allows disaster management agencies to get detailed disaster information sooner.

Q. What do you think of satellite utilization for disaster and environmental monitoring?


I think that, at this time, satellite utilization is the most suitable and fastest way of disaster and environmental monitoring in the Asia-Pacific region, as well as other regions in the world, because of its advantages of rapid response and broad coverage.

Q. What kind of space applications are used in Vietnam? What are Vietnam's expectations for space utilization?


In Vietnam, the two largest agencies using space applications are MONRE [the Ministry of Natural Resources and Environment] and MARD [the Ministry of Agriculture and Rural Development]. We have used satellite imagery mostly for land use, weather forecasting, and forest-fire monitoring.
We would like to have capacity building and technology support from JAXA and related agencies to help us exploit space applications for disaster management, as well as in the fields of forestry, agriculture, aquaculture and water resources.

Q. What do you think about cooperation with space agencies in the Asian region?


It is very important and useful to have cooperation with space agencies in this region because we can gain a lot of knowledge from their experience in remote sensing applications. Cooperation across Asia is directly useful in our daily life.

Q. What are your expectations for cooperation with JAXA?


I myself appreciate the cooperation we have had with JAXA. We have had a lot of success from this cooperation, and I hope to have close collaboration with them in the future. We will have many more successes on both sides.