Q. You stayed on the International Space Station (ISS) for 4½ months. What are your thoughts on the mission?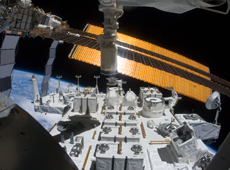 Kibo's Exposed Facility attached to the ISS (Courtesy of NASA)
It was my first long-duration mission in space. Before this flight, I thought my time aboard the space shuttle-while docked, upon arrival, and during departure-could be compared to short sprints, while the time on the ISS would be like running a marathon. But in reality, the first 2 months didn't seem like that at all. After the departure of the space shuttle Discovery, my ride to the ISS, and later the departure of the ISS Expedition 18 crew, which left on the Soyuz TMA-13, only three crew members remained: Russian commander Gennady Padalka, American astronaut Michael Barratt, and myself. All three of us were very busy-as busy as we had been on a shuttle flight. That was unexpected. Later, at the end of May, three new crewmates arrived on Soyuz TMA-15 to join us. This marked the first time we had established a six-member crew aboard the ISS. The increase in crew size finally allowed us to slow down a little and actually get some rest On Sundays, we spent some time looking at our beautiful home planet through the windows of Kibo, the Japanese Experiment Module on the ISS, reading books or listening to our favorite music. Observing the Earth go by beneath our outpost had the most relaxing effect on me.
During the STS-119 mission, which took me to the ISS, we attached the S-6 Truss, a base structure of solar array wings, and during the STS-127 mission, before our return, we completed the assembly of Kibo with the installation of Kibo's Exposed Facility.
Q. How did you manage your health in orbit?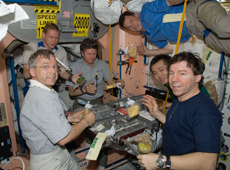 ISS Expedition 20 crew having a meal (Courtesy of NASA)
I had weekly medical conferences with JAXA flight surgeons via video conference, and bi-weekly psychological conferences with a JAXA psychiatrist and a psychologist. Through these interviews, my physical and mental health was thoroughly monitored. I reported on myself, and was given comprehensive advice on such things as nutrition, based on my reports and on medical data acquired in orbit. I think these conferences played a big role in helping me maintain my health in space. Also, the conferences were done privately and in Japanese, so I could communicate with ease. The official languages on the ISS are English and Russian, and when I was speaking with the Flight Control Room at JAXA's Tsukuba Space Center during ISS systems and payload operations, I was required to speak in either English or Russian. I believe that having conferences in my mother tongue played a great part in making me feel comfortable during my stay away from home.
Also, I brought 28 different kinds of Japanese space food with me, which were developed in collaboration between JAXA and various food manufacturers. Eating Japanese food, familiar to me since my childhood, always cheered me up in space. Living so long in a confined environment such as the ISS made me deeply aware for the first time just how big a role food culture plays in providing psychological support in life.