Q. How did you feel when you landed on Earth?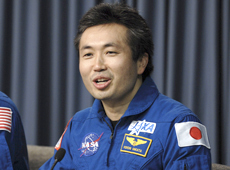 Astronaut Wakata at STS-127 press conference after landing (Courtesy of NASA)
When the space shuttle landed at the Kennedy Space Center, I felt the heaviness of gravity and realized that I really had come back down to Earth. When the hatch opened and the scent of grass entered the shuttle, I felt the Earth was welcoming us back. On the ISS, you don't experience the loveliness of a breeze sweeping over your face. I became more sensitive to how greenery on Earth soothes people's minds. When you look at plants and trees from the surface, you sense that they are full of life. It's not like that when you see them from space. After we landed, the pleasure of inhaling the air increased my appreciation of our planet, and my affection for it. These were my initial thoughts when I returned to the Earth.
The 4½ months in space went by so quickly since I was very busy throughout my flight with various tasks-experiments, systems maintenance, media relations and public events. It felt like I had only been gone for a 2-week business trip. It felt almost like everything had been a dream. I think this is because our experience in space was extremely different from our daily life on Earth, and probably because we worked in such a tough environment.
Q. It is said that a long stay in space weakens bones and muscles. How did you find it for yourself?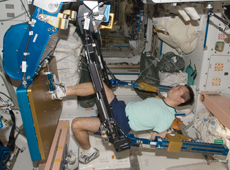 Astronaut Wakata exercising (Courtesy of NASA)
Personally, I didn't experience any weakening of my bones. Unlike Earth, a space environment is free from 1G gravity loads and, as a result, the calcium in bones begins to dissolve into the blood and urine. A case has been reported where the rate of bone density reduction was about ten times faster than in an osteoporosis patient on Earth. Bone density reduction in a weightless environment works differently from osteoporosis on Earth-leaching of calcium from bones can cause kidney stones. On this mission, I became the first subject in a joint Japan-U.S. experiment, and took an anti-osteoporosis drug throughout my stay. The data is still being analyzed. We need more astronauts to take part in the experiment, because a single subject is not enough to get a reliable result. It will take time to obtain more solid data. But when I had my bone density measured after my return to Earth, no reduction was seen. The result was quite favorable.
For my muscles, I did 2 hours of exercise every day in space. I know that I was maintaining my physical strength close to my pre-flight level. Onboard the ISS, we have devices for exercise similar to weightlifting machines that can be used in a weightless environment. Based on the data logged on the exercise devices, as well as observations of my aerobic exercises using a stationary cycle and a treadmill, it was evident that I lost very little physical strength in space. I was able to walk without any problems as soon as I returned to Earth. Based on the fact that my vestibular organs had functioned fine after my previous short duration space flights on the Space Shuttle, and considering my ability to maintain adequate muscle strength during the long duration stay on the ISS, I could assume that I would be able to move around in 1G environment after landing without any significant problems. Having experienced all this first-hand, I am absolutely convinced of the importance of regular exercise in space, not only for maintaining physical and mental health in orbit but also for shortening the rehabilitation time after return to Earth.