Q. What are your hopes for Japanese human space activity?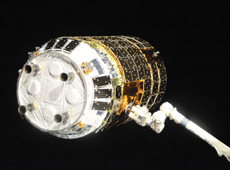 Japan's first H-II Transfer Vehicle, docked with the ISS in September 2009 (Courtesy of NASA)
First of all, I would like to see the continuous operation of Kibo , as well as the success of the ISS project. The assembly of Kibo was completed in three stages: the Experiment Logistics Module-Pressurized Section was attached in March 2008. The Pressurized Module was added in June 2008, and the Exposed Facility in July 2009. Despite the complexity of its systems, Kibo has not had any major problems. I think this is due to the great quality control capacity of the Japanese space technology. It is extremely challenging for humans to live and operate experiment facilities in the harsh environment of space. If you make an operational mistake, a serious accident could happen, causing fatal damage, such as a fire or rapid depressurization.
I think it's important that Japan's human space activity in the future benefit from the technologies and knowledge we gain from developing and operating Kibo. And, I hope that our country, as a world leader in technology, maximizes its areas of strength, such as robotics technology, and greatly contributes to the advancement of human activity in space.
Furthermore, while future human space projects are expected to progress with international cooperation, it is critical for Japan to expand into space more proactively, by building our own space transportation system. For instance, I think Japan needs to be able to make human lunar exploration happen on its own initiative. Whether we go to the Moon or to Mars, the goal is to expand our frontier in space. But in the course of this, we must not lose sight of the goal of developing new technologies that will benefit our daily life. I believe it is essential for Japan to make progress in space development, including human space activity, always remembering why we go to space.
Q. What are your dreams for the future?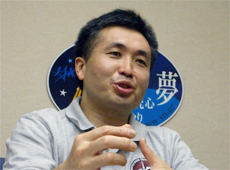 I would like to contribute to the success of the ISS project as a Japanese astronaut. I would also like to increase awareness of Japan's significant contributions to the advancement of space development, such as Kibo and the personnel working on the ISS project, for example. And I dream of building a Japanese-made spaceship as a transportation vehicle between Earth and a low-Earth orbit, so that many Japanese and overseas astronauts can take off into space from the Tanegashima Space Center in Japan. Q. Finally, do you have a message for Japanese readers?I am so grateful for the many messages I received during my stay on the ISS. Your support certainly helped me carry out my long-duration mission in space for 4½ months. I am very pleased to be able to complete my mission safely.
In December, Astronaut Soichi Noguchi is scheduled to take off for a long-duration mission on the ISS. At the beginning of next year, Astronaut Naoko Yamazaki will be on board a space shuttle, and after that, Astronaut Satoshi Furukawa is scheduled for a 6-month mission on the ISS. Please keep an eye on the activities of the Japanese astronauts. Your continued support is much appreciated.