Q. Where are you interested in focusing your research?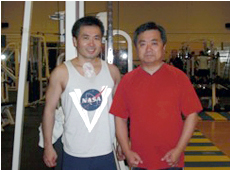 Dr. Hiroshi Ohshima at Astronaut Koichi Waikato's post-flight rehabilitation (Courtesy: JAXA)
Before I got involved in JAXA's space medicine research, I was a lecturer in orthopedics at a national university. Then, I'm interested in research on bones and muscles. When astronauts stay in space for long periods, they lose both bone and muscle masses. In preparation for their flights, astronauts build up the physical strength required for their missions by exercising 2 hours every day. Even during their flights, they exercise for 2 hours a day to maintain their physical strength. And after they return to Earth, they undergo 45 days of rehabilitation to recover their strength. In the past, We've developed an exercise program for Japanese astronauts and attended post-flight rehabilitation sessions while communicating with NASA's rehabilitation personnel. I'd like to promote further research on more effective exercise programs that can be completed in shorter periods.
I'd also like to take part in developing new exercise machines. The ones used on the ISS were developed in the United States and Russia. Once the new Japanese transportation system, the H-II Transfer Vehicle, is in use, if we could build small, multifunction exercise machines using Japan's unique technology, there may be a chance to launch and test them by ourselves.
Things related to the daily necessities-food, clothing, and everyday goods-are also important on long-duration expeditions. JAXA has worked with Japanese scientists and companies to develop space suits with deodorant and antibacterial functions, and about 30 types of Japanese space food. These items have a very good reputation not just with Japanese astronauts, but among astronauts from other countries as well. In the future, we expect to develop more functional space food, which will help maintain healthy bones and muscles, and to equip the ISS with living supplies created with advanced Japanese technology.