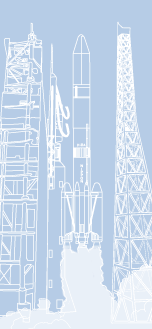 Though the H-IIA Launch Vehicles were built with technology inherited from the H-II Launch Vehicles, they were developed as a whole system. From the selection of parts to design and assembly, everything was revised.
The goals of the H-IIA development project were to improve reliability and reduce cost through streamlining and simplification.
Also, in reexamining the whole vehicle as one system, focus was placed on ease of use for both manufacturers and end-users.
As a result, the cost was reduced by almost half, down to 9.3 billion yen (H-IIA F4). The rockets have proven their commercial value, competitive with any in the world.


F1

August 29, 2001
Flight demonstration

F2

February 4, 2002
Mission Demonstration test Satellite-1 (MDS-1)
Demonstrator of Atmospheric reentry System with Hypervelocity (DASH)
Vehicle Evaluation Payload-3 (VEP-3)

F3

September 10, 2002
Data Relay Test Satellite (DRTS)
Unmanned Space Experiment Recovery System (USERS)

F4

December 14, 2002
Advanced Earth Observing Satellite-II (ADEOS II)
<Piggyback Payloads>
Federation Satellite (FedSAT)
Whale Ecology Observation Satellite System (WEOS)
Micro LabSat

F5

March 28, 2003
Information Gathering Satellite (IGS)

F6

November 29, 2003
(Failed)
Information Gathering Satellite 2 (IGS)