Q. Were there any difficulties during your analysis?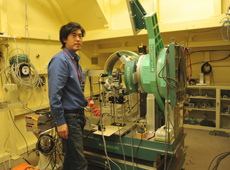 Equipment used to analyze dust from the asteroid Itokawa (courtesy: High Energy Accelerator Research Organization, KEK)
Before HAYABUSA's return to Earth, we worked hard to confirm multiple times how we would analyze the dust particles, and practiced over and over to perfect our approach. Our preparations were thorough, so our analysis went well and produced solid data. I don't think there were any technical difficulties, because the dust particles we analyzed were bigger than we expected - between 50 and 100 micrometers in diameter [1 micrometer = 0.001 mm]. We had assumed the particles would be 10 micrometers in diameter or smaller, so that's what we prepared and practiced for. It turned out the particles were around the same size or a little bigger than the cosmic dust I'd studied before, so there were no problems with the analysis. Nonetheless, I was excited when the first data we produced turned out to be very clean. Everyone in the lab was overjoyed.
The initial handling the dust from Itokawa was far more tricky. I was charged with opening the lid of the HAYABUSA capsule, so I practiced many times to figure out through trial and error how to do it without losing any of the microscopic particles, and how to find the dust inside the capsule. Starting about two years before HAYABUSA's return, I worked every week with Professor Takaaki Noguchi of Ibaraki University and his team. But no matter how many times we practiced, we would have only once chance to open the real lid. I was so nervous when we did the real thing that I thought I was going to die, but I decided to just go for it, and opened up the capsule's seal. It was an incredible relief when I opened the capsule's lid without losing any dust.
Q. How did you feel afterwards, when you got the dust for your analysis?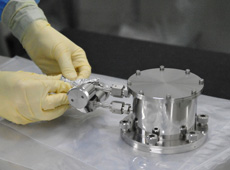 Preparing a transport container used to transport dust particles from Itokawa.
The path leading up to the analysis was long, so I was very emotional. When HAYABUSA's ion engine broke down, I was worried that it might be all over, but I'm glad that we never gave up and were able to pull it off.
The initial analysis team was formed in 2003, when HAYABUSA was launched. From that point on, until the probe's return, we prepared thoroughly so that we could do the best possible analysis. Although the HAYABUSA capsule came back in June 2010, we took our time - we had to be careful opening its lid and checking its contents. That's why it took about six months for us to announce that we had indeed found dust from Itokawa inside the capsule. After that, we divided up the dust particles and distributed them to researchers. When my turn came to perform my analysis, it was already February 2011. This analysis wrapped up my involvement with this project, which lasted about 10 years.
I talked a moment ago about how difficult it was to handle the dust, but another part of that was transporting it. We put it in special containers filled with nitrogen to prevent exposure to the atmosphere, and two people, both traveling on the ground, carried the containers. We would have had a big problem if, after all the trouble we took to fill the containers with nitrogen, we took them on an airplane and one got opened at security. I have a very distinct memory of receiving the suspicious-looking dust container at a train station from JAXA's Akio Fujimura. He'd brought the dust to Yokohama station by train where he handed the dust container to me, and he had a very serious, cautious look on his face. That was the moment when I finally got my hands on humanity's first-ever asteroid sample.
But then, one month later, the Great East Japan Earthquake struck. Tohoku University, where I work, suffered extensive damage, so we had to stop our analysis. That's why we spent only about a month on it. I wrote the paper for Science as the aftershocks continued to hit. I don't think I'll ever forget that time.