Q. What kind of asteroid exploration missions are making progress in the United States?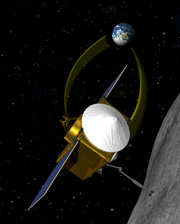 Asteroid Explorer OSIRIS-REx (courtesy: NASA/Goddard/University of Arizona)
Right now, the United States has a plan to send a new spacecraft, called OSIRIS-REx, to a primitive, perhaps organic-rich asteroid called 1999 RQ36. OSIRIS-REx will be launched in 2016, and we hope to get some organics from the earliest stage of the solar system. The hope is that those samples will tell us about the precursors to life on Earth, because all those organic molecules and water were raining down on the early Earth. All the things that are in our bodies came from those asteroids, and from comets as well. The challenge will be to clean up the spacecraft so you don't contaminate the asteroid. And then, how do you clean up the collection part of the spacecraft so the samples are maintained without any organics being introduced from the air. It also means that when you bring it back to Earth, the laboratory has to be organically clean, which is a very, very difficult thing to do. Because we humans are lumps of organic matter.

Japan's HAYABUSA 2, which will launch in 2014, also plans to go to a more primitive and, we think, more organic-rich asteroid. One of the main goals of OSIRIS-REx and HAYABUSA 2 is the sample return of organic matter. And so because these missions have similar goals, of course people are discussing how to clean up the spacecraft and maintain them cleanly, how to function at the asteroid, how to do preliminary analyses of the samples without contaminating them, etc. That's very, very important. And also mistakes. If you make a mistake in your mission, you tell the other mission, "Oh, we did this thing wrong, please avoid this mistake." That's really an important thing that often doesn't get done. People don't talk to each other. So it's important that it happen this time. I'd certainly like the relationships I've built with Japanese researchers through the HAYABUSA mission to also be of help in future missions.
Q. What are you hopes for future asteroid exploration?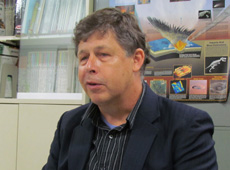 I might say that I like studying water in every solar system. In 1998 I found a meteorite that fell in Texas with halite (table salt) crystals inside, which contained droplets of liquid water inside. And my hope is that we return more of that kind of material in a future mission. Or maybe even ice. People are thinking about how you would collect a sample of ice on an icy asteroid or a comet, and then keep it frozen all the way back to Earth. It would be very hard to do, but you could do it. So my dream is that in my lifetime, sometime, we'll be able to have the chance to do a mission where we bring back actual ice from a comet or an asteroid. Maybe it could still happen during my career.