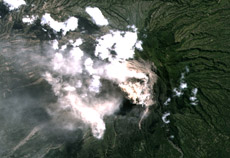 A column of smoke rising from Mount Merapi in Java. White belt-zones on its south slope are thought to be pyroclastic flows.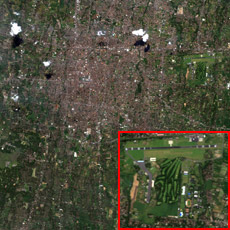 Pre-disaster Image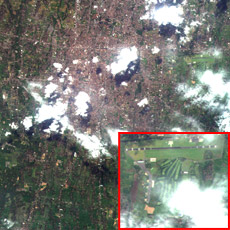 Post-disaster Image
Disaster area from the May 2006 Java earthquake. The enlarged image is the Yogyakarta airport. Among the post-earthquake differences: the silty water, which looks brown in the image, has changed color.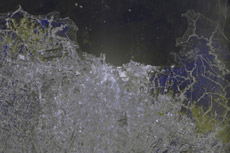 Image from the 2007 Jakarta Flood. Blue indicates flooded areas.
Q. Could you tell us about your job in disaster management?
I'm in charge of the Natural Resources and Environmental Monitoring Division of the Indonesian National Institute of Aeronautics and Space (Lembaga Penerbangan dan Antariksa Nasional - LAPAN). Our tasks include meteorological observation, weather forecasting, monitoring regions with frequent floods, classifying areas where there are frequent fires, monitoring forest fires and vegetation growth, and evaluating arable land for rice fields. It is also our job to conduct emergency observations when disasters occur. These activities are part of our disaster management program, with the aim of mitigating disasters in Indonesia.
Q. What are the problems Indonesia is facing today with regards to disaster management?
Indonesia is a large country located near the equator in the Pacific Ring of Fire, and consequently suffers from water and geological disasters, and land degradation. Our current problems are a shortage of tsunami data, a low awareness of the overall effects of disasters, and insufficient cooperation between data suppliers and LAPAN.
Natural disaster management requires data acquired by remote sensing satellites. Information about potential dangers, such as climate, extreme weather, earthquakes, landslides, tsunami, volcanoes, and forest and land fires, is most relevant, so I'd like to establish further cooperation with data suppliers such as JAXA, and make good use of their satellite data. I'm also hoping that, by combining the satellite data with other information, we will be able to contribute to solving certain social problems, including disasters.
Q. In what ways do you expect satellites to assist with disaster management?
Satellite images are used for prevention and preparedness, to assess the scope of potential disasters and help mitigate damage that could occur. Upon occurrence of a disaster, the images are used to determine the extent of the damage and the location of refuge areas. In post-disaster management, they are used for reconstruction and sustainable development activities.
In Indonesia, images acquired by the Earth observation satellite Daichi (ALOS : Advanced Land Observing Satellite) have already been used many times to conduct emergency observations of such disasters as the eruption of Mount Merapi in Central Java in May 2006, the earthquake in Jogjakarta in May 2006, the floods in Jakarta in February 2007, and the earthquake in West Sumatra in March 2007. Daichi's images have proven to be extremely helpful for disaster support activities in Indonesia. If we can receive and use timely data, I think it will be possible for us to better manage disasters.
Q. What are your thoughts on Sentinel Asia, the project for sharing disaster information in the Asia-Pacific region, which JAXA is also involved with?
Sentinel Asia has enabled us to respond to disasters promptly, and I have been very satisfied with its activities thus far. Having said that, it has only been a year since the project started, so there is still room for improvement, including the upgrading of online information. In the future, I'd like to see the activities of Sentinel Asia reinforced and expanded, and more data be made available. For this to happen, all Asian countries will need to become aware of the significance of the project, and participate.
Q. How do you think Indonesia's disaster activities should change in the future?
Our country has had a series of natural disasters since the destructive tsunami in 2004, and the experiences have taught us the importance of preparedness and of raising awareness of disaster management. In my view, related ministries and research institutes should strengthen nationwide and international cooperative efforts, in order to minimize human casualties and the economic and social costs of disasters. Also, we will need to improve our knowledge base in the use of satellite technology and data, in order to make best use of information acquired by satellites for disaster management.
Q. Do you have any suggestions for JAXA in the future?
I hope that JAXA will continue to improve satellite technology and its applications, and continue to contribute to protecting developing Asian nations from disasters.
---
Orbita Roswintiarti
Head of the Natural Resources and Environmental Monitoring Division of the Indonesian National Institute of Aeronautics and Space (LAPAN).
After obtaining her B.Sc. at Bandung Institute of Technology (Institut Teknologi Bandung) in 1985, Dr. Roswintiarti studied at North Carolina State University in the United States, where she received her M.Sc. in 1991, and a Ph.D. in Atmospheric Sciences in 1999. In 1986, she joined LAPAN as a research scientist in remote sensing applications.