Q. What kind of discussions were held, and what kind of future direction was decided at the GEO ministerial meeting in Beijing in November 2010?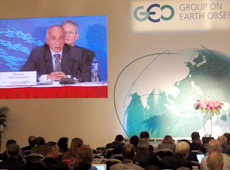 GEO ministerial summit, Beijing, November 2010 (courtesy:GEO)
At the GEO ministerial meeting in Beijing, importance was placed on continuing to provide access to observation data. Organizations working in environmental management, as well as in science, recognized again the need for the Global Earth Observation System of Systems (GEOSS). Governments require observation data on all issues, and they have expressed a high regard for the usability of GEOSS.
To achieve free access to data, we received support from members to set up a utilization system, in order to distribute the vast amounts of observation data provided to GEO. To be more specific, we are going to use the DataCore approach and provide free access to GEO's observation data to everyone.
They also agreed to maintain GEO and its activities over a much longer period. One of the things we have decided for the future is to look into a legal framework that would allow GEO to continue its work after 2015. GEO has been established based on the 10-year Implementation Plan beginning in 2005.
In addition, we received support from ministers on Carbon Project, Forest Carbon Tracking, and the Group on Earth Observation Biodiversity Observation Network (GEO-BON). GEO-BON is organized under GEOSS, and its goal is to make global observations on biodiversity, which previously were performed only in selected areas.