Q. How is IBUKI involved in data standardization for the GEO Carbon Project?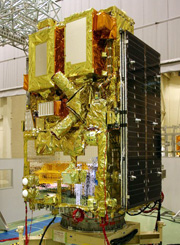 Greenhouse Gases Observing Satellite IBUKI
I think that standardization means providing data in a user-friendly unified format, but in the case of IBUKI this is still a work in progress. At the moment we are coordinating things with GEO-related space agencies and organizations.
When satellites such as IBUKI measure greenhouse gases from space, they can observe gas concentration in the entire three-dimensional area that the sensor's light travels through. Observations from the ground, however, are often more localized. Sometimes gas concentrations are measured using sensors mounted on towers - for instance, 10 meters or 50 meters from the ground. But there are many kinds of observation tools, and other ground-based observation methods do allow us to measure the entire area that the observation waves go through, just like observation from space.
Because there are so many different observation methods, there are differences between observation data from satellites and from the ground. In order to make IBUKI's observation data more reliable, our challenge in the data standardization process is to correct for those differences.
Additionally, we need to compare data with other satellites, as well as ground observations. Several satellites have greenhouse gas observation sensors similar to IBUKI's: the European Space Agency's Envisat and MetOp, etc. We are thinking of cooperating with the Centre National d'Études Spatiales (CNES), which developed the sensor for MetOp, to cross-validate our data. Furthermore, NASA is scheduled to launch the Orbiting Carbon Observatory OCO-2 in February 2013, so we are hoping for a successful launch this time, and cooperation with IBUKI on data standardization.