Q. What is JAXA's role in standardizing data for the GEO carbon project? And what is your responsibility in this regard?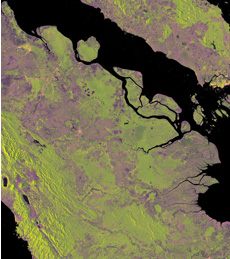 Eastern Sumatra in Indonesia. Green indicates forested area and purple indicates deforested or non-forested area. ©JAXA,METI analyzed by JAXA
The first meeting to discuss standardization, including what kind of data to provide and how to present it for ease of understanding, was held in Canberra, Australia, in April 2009. It is important to provide accurate, easy-to-use data to researchers around the world, but the reality is that data contains no small measure of errors. So part of our effort toward standardization is to decide on a processing variable, so that the data can be calibrated to minimize the errors. In that sense, I think the validation process - which uses data collected by satellites from different countries observing the same locations at the same time - contributes to standardization.
I am involved in standardization of SAR data, and I am studying how to calculate the changes in forest area and in the amount of biomass from the density contrast image of the forest/non-forest map. Biomass is biological material derived from living, or recently living, organisms. Woody biomass is what is left after moisture has substantially evaporated from wood, with carbon comprising up to half of the total remaining mass. As the initial source of this carbon is carbon dioxide absorbed from the atmosphere, it is possible to accurately determine the amount of carbon absorbed by the forest. Q. What is the current status of and the future plan for the standardization of carbon data? Our ultimate goal is to accurately calculate the amount of biomass, and today we are almost halfway there. The data analysis is becoming more and more sophisticated. Rather than simply making a broad distinction between forest and non-forest, and thus measuring only changes in the overall volume of forests, it is increasingly possible to distinguish between types of forest - for example natural forests, mountain forests, or palm-oil plantations.
Also, we are finding that the brightness of SAR images corresponds to the amount of biomass only up to a certain point - up to 100 to 150 tons per hectare. In denser forests that's no longer the case. To solve this problem, we need to know the density of the forest and the height of the trees, but current data is not accurate enough. So improving the quality of biomass data is a major priority for the future.
In the meantime, the accuracy of the information collected by satellites needs to be verified. To do so, it is important to examine the locations in person or obtain forest information from local authorities. So I think it is essential to build a cooperative structure where we provide satellite data, and acquire ground observation data from local institutions in return.
Accurate measurement of biomass is a significant challenge for researchers around the world, not just in Japan. JAXA aims to achieve this ultimate goal in the next three years, and to do this it is essential to collaborate with other organizations. At present, we are working in cooperation with the Japan International Cooperation Agency and Japan's Forestry and Forest Products Research Institute. Also, to develop new forest-monitoring applications for data from DAICHI, we have invited international organizations, such as NASA's Jet Propulsion Laboratory, to exchange opinions.