Q. Recently, a number greenhouse-gas observing satellites, such Japan's IBUKI, have come on line. What are your expectations for these satellites?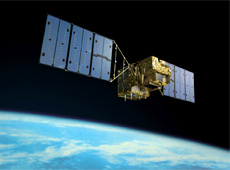 Greenhouse Gases Observing Satellite IBUKI
I think this is very powerful technology that can help us track the level of emissions and concentration in different parts of the globe. For example, it could help us understand how seasonal activities are affecting emissions in different parts of the world, and what is driving these emissions. So I think this is extremely valuable information. I hope researchers will use it on a large scale to come up with some findings that the IPCC can make use of. Q. In the Kyoto Protocol, the developed countries agreed to reduce their emission of greenhouse gasses to 5% below 1990 levels by 2008. However emissions have increased by 26%. What do you think of this situation? Well, it's odd that the UN framework on climate change came into existence in 1992, but emissions continue to grow worldwide. That clearly shows that the global community has really not been able to implement the framework. I think the world has to find more effective mechanisms by which we can implement the requirements of the UN framework on climate change. In the fourth assessment report of the IPCC, we have clearly stated that between 1970 and 2004, greenhouse gas emissions have grown by 70%, and in some parts of the world emissions are continuing to increase at an even faster rate than in the past. That clearly is a trend that cannot continue.
I think data of this kind is very important for educating the public and leaders in different parts of the world to show how ineffective we have been in solving the problem. I think this visual presentation is extremely important, because it can help policymakers fully understand what is happening in different parts of the globe. This is extremely valuable information, but the manner of presentation is equally important and valuable.