Jul. 25, 2018 Updated


Imaging Ryugu from an altitude of 6km
Hayabusa2 arrived at asteroid Ryugu on June 27, after which the spacecraft remained at a distance of about 20km (the Home Position) to continue to observe the asteroid. During this time, the spacecraft was maintaining a hovering altitude of 20km above the asteroid surface.
In the week of July 16, operations were begun to lower this hovering altitude, eventually bringing the spacecraft to less than 6km from the asteroid surface. One of the images taken at that time is shown in Figure 1.

Figure 1:
Asteroid Ryugu from an altitude of 6km. Image was captured with the Optical Navigation Camera - Telescopic (ONC-T) on July 20, 2018 at around 16:00 JST.
Image credit ※: JAXA, University of Tokyo, Kochi University, Rikkyo University, Nagoya University, Chiba Institute of Technology, Meiji University, University of Aizu, AIST.

※Please use the displayed credit when reproducing these images. In the case where an abbreviated form is necessary, please write "JAXA, University of Tokyo & collaborators".
Jul. 17, 2018 Updated


Bremen Town Hall Exhibits Hayabusa2 and Mascot, July 10 to October 14
The Bremen City Hall, Bremen, Germany houses on exhibit the JAXA asteroid explorer Hayabusa2, and MASCOT, the onboard lander MASCOT, developed by DLR (Deutsches Zentrum für Luft- und Raumfahrt, English: The German Aerospace Center) and CNES (The Centre National d'Etudes Spatiales, English: French National Centre for Space Studies). The City Hall, UNESCO World Heritage Site accommodates the exhibits July 10 through October 14.
Home to thriving space and science researches, the city will hold the IAC (International Astronautical Congress), the world's biggest space conference this October. DLR and private space businesses are teaming up for the country's robust space industry.
Please visit the exhibit amid the richness of the history that the architecture offers.

At 9:35 am Japan Time, June 27, Hayabusa2 rendezvoused with Ryugu, the target asteroid. Keeping its 20-kilometer distance away from the asteroid, or its home position, Hayabusa2 is being confirmed of its function that performs future operations. MASCOT will land on the asteroid around October this year for observations of the surface using four instruments.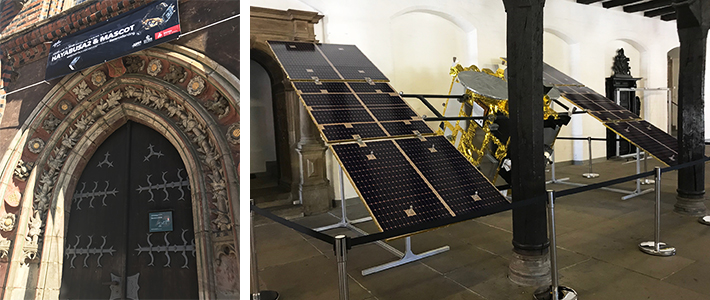 Jul. 10, 2018 Updated


Participation of JAXA President in UNISPACE+50
The United Nations Office for Outer Space Affairs (UNOOSA) organized UNISPACE+50 from June 18th to 21st, 2018 in Vienna International Center, Austria to celebrate the fiftieth anniversary of UNISPACE I (Reference 1). More than 70 countries and organizations, and participants from ministerial level (14 participants) and heads of agencies (10 participants) participated in the conference. Ambassador Kitano, Permanent Representative and Ambassador Extraordinary and Plenipotentiary of Japan to the International Organizations in Vienna represented the Japanese delegation. Dr. Yamakawa, JAXA President, also participated in the conference.
During the high-level segment of UNISPACE+50, Dr. Yamakawa represented Japan and made a statement regarding Japan's recent space activities. He also delivered a speech during the Heads of Agencies Panel, and introduced JAXA's contributions to SDGs. He had meetings with various space agencies and signed two agreements—agreement regarding the extension of KiboCUBE cooperation programme with UNOOSA, and an implementation agreement concerning cooperation on validations, improvement, and applications of rainfall products using satellite images and ground measurements with Indian Space Research Organization (ISRO). (Reference 2,3)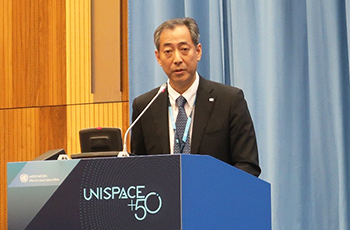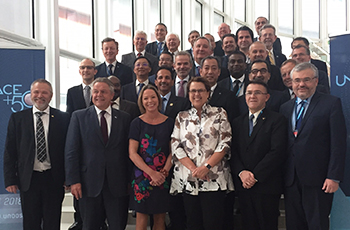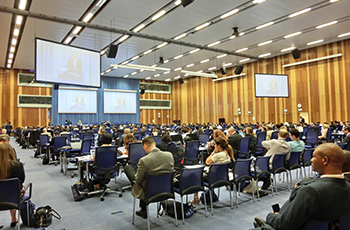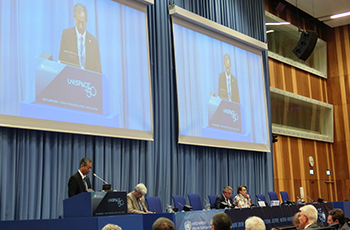 Jul. 6, 2018 Updated


JAXA's ALWIN Earned President's Award of the Japan Aeronautical Engineers Association
ALWIN, Airport Low-level Wind Information was prized with the President's award of the Japan Aeronautical Engineers Association. Since last April, the award-winning technology, co-developed by JAXA and Japan Meteorological Agency, has been in operation at Haneda and Narita International airports.

ALWIN accurately measures low level wind direction, speed, wind shear, turbulence, and associated data along approach and departure paths and provides visual alerts to pilots and other aviation staffers in text and image. The system improves safety in aircraft arrivals and takeoffs and helps reduce delays. Evaluated positively by airliners, ALWIN is in use right at the heart of the air traffic services.

Development is underway of SLOWIN, SOdar-based Low-level Wind Information, a less costly counterpart of ALWIN. Testing has been conducted since last year at local airports to validate this new system.
Jul. 6, 2018 Updated


Bronze Lion to Future Cuisine Restaurant Ibuki in 65th Cannes PR Lions
Slated for launch in Japanese fiscal 2018, JAXA's GOSAT-2, Greenhouse Gases Observing Satellite: later renamed Ibuki is designed to accurately measure carbon dioxide and methane concentrations. This high-resolution satellite data is expected to offer consistent information that helps identify the sources of emission and absorption of atmospheric carbon monoxide.
The GOSAT-2 project team sees the need to attract public attention to the crucial GOSAT-2 missions and global warming, the issue that the missions will further elucidate. Their desire took shape in the Care for Earth project. In cooperation with ASATSU-DK INC., NPO City Watch Square and 7days kitchen opened the Future Cuisine Restaurant Ibuki, a pop-up restaurant only for a day in Omotesando, Tokyo.
The Future Cuisine Restaurant Ibuki won the final PR Bronze Lion of the 65th annual Cannes Lions Festival of Creativity, held on June 18 through 22, 2018 in Cannes, France.