Dec. 17, 2008 Updated


Astronaut Furukawa selected to stay on ISS for prolonged period
Astronaut Satoshi Furukawa was selected as a crewmember of Expedition 28/29 to stay on the International Space Station (ISS) for a prolonged period.
Astronaut Furukawa is scheduled to go to the ISS on the Soyuz spacecraft in the spring of 2011 and stay there for about six months. He is expected to engage in activities focusing on utilizing the space environment such as scientific experiments.
December 9, 2008 Updated


IBUKI open to the press at TNSC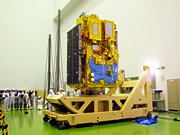 On December 9, the Greenhouse Gases Observing Satellite "IBUKI" was revealed to the press at the Spacecraft Test and Assembly Building #2 (STA2) at the Tanegasima Space Center (TNSC.) The IBUKI is now in its final preparation phase.

JAXA is accepting supportive messages to the IBUKI and its project team. We welcome your messages and images.

November 17, 2008 Updated


Certificate, tinned herb seeds presented to IBUKI's godparents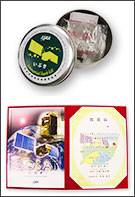 JAXA sent a certificate and tinned herb seeds to all 630 godparents of the Greenhouse Gases Observing Satellite "IBUKI."
In our special site for the IBUKI, we are asking for supportive messages for the IBUKI and its project team. We are waiting for messages from those who are IBUKI's godparents as well as those who are not. Please express your expectations and support to us. The launch is only two months away. Your continuous support is very much appreciated.