--- What difficulties did you have during this launch?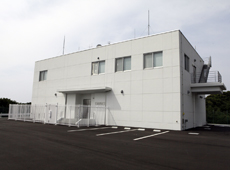 Exterior view of Epsilon launch control center
It was hard to configure the timing so that the system at the ground facility would run an assessment a few seconds after receiving the data from the rocket. Each piece of on-board equipment has its unique properties, and we couldn't assess them all at once, so we had to precisely configure the timing for each. The system would detect an error if the timing was even just a little bit off, and that would automatically shut down all subsequent operations. At first we just had a string of errors, so then we rearranged the procedures and proceeded with a trial-and-error approach.
--- How did you feel when the timing error delayed the launch?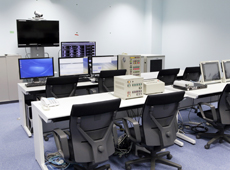 Interior view of Epsilon launch control center
The cause of the aborted launch was that we didn't give serious consideration to the 0.07 seconds it took to send a command to the rocket and receive a response. The rocket triggered its own shutdown 19 seconds before launch, but that was because the system had detected a flaw. In other words, it worked properly. That's why I had very mixed feelings when the media reported the launch had failed due to a system malfunction.
--- Were you happy when the launch succeeded?
After the launch was postponed, we formed an investigative team to examine whether something had functioned incorrectly, and we performed a thorough general review at Uchinoura. That was hard work, so when I saw the launch, part of me felt genuinely moved, while the other part felt relief that the equipment I had worked on had functioned properly.
It was also my first time seeing a solid-fuel rocket launch. I was about 2 km away from the launch site, at the Epsilon Control Center. We could feel the shock from the launch in the building, and I hadn't expected that it would feel as if my own body was going up, too. I had previously worked on the H-IIA and H-IIB launch site equipment, but at the Tanegashima Space Center the launch control room is underground, so I didn't feel the shock of the launches there. If I ever get the chance, I definitely want to watch an Epsilon launch from outside the building.